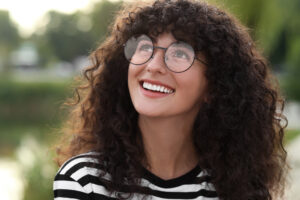 You depend on your smile every day, from your first impressions with new people to important moments like weddings and job interviews. If you are struggling with the appearance of your smile due to misalignment, take some time to meet with your dentist to discuss your options in treatment. Not only can this bring noticeable cosmetic benefits, but orthodontic improvement can also help you to have a stronger and more functional smile.
With our team of helpful orthodontic experts in Prairie Village, KS, you have an exciting new option to help you straighten and properly space your teeth with SureSmile®. This form of treatment uses a progressive set of nearly invisible aligner trays to gently, yet effectively, shift the location of your teeth along your oral ridge. Simply wear your clear aligners throughout the course of the day, and then watch as your smile gradually comes into focus. Take the time to schedule your consultation for SureSmile® clear aligners today and discover the difference!
Your Alignment Can Affect Both Your Appearance And Your Oral Health
When your smile is out of balance, it can pose serious problems for both your look and the health of your dentistry. While you are certainly aware of the impact of crooked or improperly spaced teeth on your appearance, did you know that your misalignment can also hold you back in your routine oral health maintenance?
Crowding and overlapping teeth can create areas where it is difficult for your toothbrush to fully reach, preventing you from being able to remove plaque and tartar. When these harmful forms of biofilm start to accumulate on the surface of your teeth and along your gumline, they can lead to serious problems such as tooth decay and periodontal disease!
Work Toward A Straighter Smile With SureSmile® Clear Aligners
If you have had enough of dealing with your misalignment, talk to your dentist about your options in improvement. With SureSmile® clear aligners, you can have an orthodontic treatment solution that helps you to keep things a little bit more private.
With these nearly invisible aligner trays, you will simply wear them throughout the day while they get to work. As you reach nearer to your smile goal, you will swap them out for another set, continuing your care. It is important to follow the directions that your dentist gives you so that you maximize their effectiveness!
Find Out More About SureSmile® Clear Aligner Therapy With Dr. Browne, DDS
When you want to see an improved smile in the mirror, talk with our team about clear aligner treatment from SureSmile®. To learn more, or to schedule your appointment for a consultation, give us a call at our office in Prairie Village, KS at (913)901-8585 today!