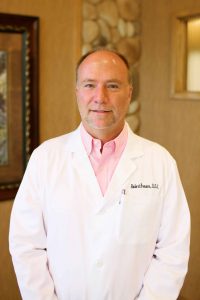 Robert M. Browne, DDS
Dr. Robert Browne never thought his summer in Hawaii at 19-years-old would lead to his future in dentistry. He didn't go to the tropical paradise for vacation, but instead, he went to work as a dental assistant at his brother-in-law's practice, and also took classes at the University of Hawaii.
He recalls choosing his career path after he assisted with his first extraction.
"I was driving home and I got a little bit of an adrenaline rush and knew this is what I want to do."
Robert went back to Kansas City, received his undergraduate degree in Biology at UMKC and then went on to UMKC School of Dentistry and graduated in 1987. He worked his way through school by selling men's clothing and also had a side business creating yard signs for birthdays and other events. He sold the business for profit after dental school, which helped him open his first practice in Brookside and in 2000 he moved to Prairie Village.
Robert has formed warm relationships with many of his patients for over 30 years and has cared for multiple generations who continue to come back. The most important thing to him is that when patients come into the office they are treated like family in a fun, friendly and stress-free environment. Many times, patients have real anxiety about a dentist visit and he and his staff will give each patient the best experience and oral care to help maintain their overall health. He will listen to each patient's concerns and together they will find a treatment plan that works for them.
Robert enjoys and has years of experience mastering a variety of dental services. He handles almost all of the procedures in-house, so a patient rarely has to be referred to another office, which usually saves a lot of time and hassle in many situations.
"We always look for ways to exceed patients' expectations," Robert noted. "If someone arrives early we will seat them early. My personal cell phone is the after-hours contact for existing and new patients. Patients may not remember what I said or what I did, but they will remember how we made them feel."
In his off time, Robert loves spending time with his other family. He has a teenaged son and adult daughter. His daughter is a registered intensive care nurse in Colorado and his son just graduated from high school in Blue Valley. He will be an empty nester come fall when his son goes off to college.
Speak with Dr. Browne About Orthodontic Clear Aligners
To schedule an Orthodontic Clear Aligners consultation with Dr. Browne, contact our office today at (913) 901-8585. Located on the south west corner of 75th and State Line at the Crossroads of Prairie Village, Waldo, Brookside, Mission Hills , Leawood and Overland Park, we're just minutes from I-435 and State Line, as well as I-35 and 75th Street.