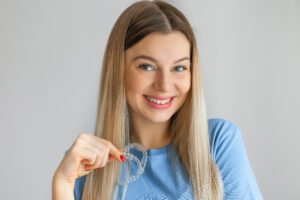 Is your smile as straight as you would like to be? If you think you would benefit from orthodontic correction but are hesitant to wear traditional metal braces, you have another option. With Orthodontic Clear Aligners, we can provide a beautiful, straighter grin, without the imposing appearance of permanent metal brackets. Clear aligners are removable during the treatment period, allowing you to enjoy better oral hygiene. This is because you do not have to worry about food becoming stuck on your appliance or navigate permanent wires when brushing or flossing. By taking an X-ray of your current smile, we can project what you will look like after orthodontic therapy. This same data is used to generate a custom set of BPA-free, translucent trays that you will wear over the coming months. Instead of visiting over and over for constant adjustments, we will simply provide another pair of trays when you complete each set. Many patients find this arrangement far more convenient than when considering traditional braces.
At your Praire Village, KS, dental office, we look forward to helping you realize the smile of your dreams. If you have problems with crowding, crooked teeth, or other spacing issues, we can examine your smile to determine if you would benefit from Orthodontic Clear Aligners. This therapy takes a cosmetic approach by focusing on the teeth in the front of your smile. By minimizing the area of your smile we focus on, you can enjoy results in a fraction of the time compared to other methods.
How Problems With Your Dental Alignment Impact Your Health
Although the esthetic benefits of a straighter smile are obvious, correcting spacing issues between your teeth significantly improves your oral health. That is because dental misalignment causes certain teeth to wear down rapidly, increasing your risk of tooth decay and gum disease. This is because physical wear and tear destroys the protective enamel layer, exposing the sensitive portions below.
Creating Your Custom Clear Aligners
When you visit our practice for a smile consultation, we will take a digital imprint of your smile. This imaging allows us to show you what your smile will look like after Orthodontic Clear Aligner treatment. When your aligners are created, we will deliver them with explicit instructions on obtaining the best results. In general, you will wear your treatment system for 20 to 22 hours each day. As your aligners pull each tooth into position, you will move through sets of trays until you reach your desired smile.
Talk To Your Prairie Village, KS Dentist About Straightening Your Smile!
We look forward to helping you realize the smile of your dreams. No one should have to live with a crooked grin. If you would like more information about Orthodontic Clear Aligners or any other of our dental services, please contact your Prairie Village, KS dentist's office at 913-901-8585.