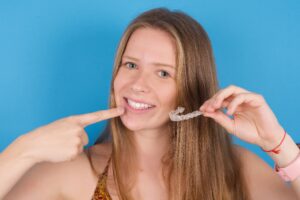 When you seek treatment to correct the position of your teeth, you can enjoy valuable benefits for your oral health. It is easy to see the esthetic reasons for pursuing orthodontics. After all, many find a straight smile quite eye-pleasing! But by straightening your teeth, you also create an easier-to-clean smile with better bite function. When your teeth crowd or are crooked, you can have a difficult time reaching their entire surface with your toothbrush and dental floss. This means that pockets of oral bacteria can gather and produce acidic waste that wears away at your enamel. Over time this creates cavities, yellow teeth, and other threats to your oral health. When you decide to better align them, you enjoy easier access for cleaning and thus reduce your risk of tooth decay.
At your Prairie Village, KS dental practice, we provide an alternative to traditional metal braces with Orthodontic Clear Aligners! This system of aligner trays can bring your teeth into position without the need for permanent brackets and wires. Because your treatment is temporarily removable, you enjoy an easier time brushing and flossing your teeth to prevent tooth decay. You will not worry about debris from your meals gathering on your appliance as you simply take it out to eat as well!
A Cleaner Smile During Orthodontic Treatment
When receiving orthodontic treatment to straighten your teeth with braces, it can quickly disrupt your everyday oral hygiene practices. Because braces place brackets and wires in your mouth, moving your brush and floss around your appliance can become a real chore. On the other hand, with clear aligners, you can take them off before brushing your teeth and pop them back on immediately afterward. We will let you know how many hours each day to wear your treatment system and provide time to take them off for cleaning and eating.
Designing Your Orthodontic Clear Aligners
When you visit our practice, we will perform a full evaluation of your smile to determine if you are an appropriate candidate for clear aligner treatment. Using digital cameras, we will take multiple pictures of your teeth from different angles to create a 3D model of your smile. Because each smile is unique, your custom aligner system is designed for your specific bite. We will deliver a system of trays that you will wear in succession to gradually guide your teeth into the desired position.
Speak With Your Prairie Village, KS Dentist About Straightening Your Smile!
You can enjoy an easy-to-clean smile both during and following treatment with Orthodontic Clear Aligners! By bringing your smile into position, you will be able to access the entire surface of each tooth. If you would like to learn more about this orthodontic service, please contact your Prairie Village, KS dentist's office at (913) 901-8585.