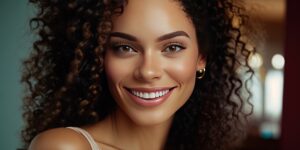 Deciding to correct problems with the spacing of your teeth can provide important benefits to your oral health. While the esthetic improvement provided by orthodontic correction is apparent to most, exploring all of the treatment options available can help you decide which provides a healthy smile. If your teeth crowd together or are crooked, it can be difficult to clean the entire surface as your brush misses certain pockets of oral bacteria. This means that cavity-causing plaques can form even when you perform a rigorous oral hygiene routine. As your plaque creates acid waste, your enamel suffers, and your crooked smile continues to diminish in quality. But by seeking an orthodontic solution to your oral problems, you can enjoy a straighter smile that is far easier to keep clean and robust!
At your Prairie Village, KS dental practice, we offer Orthodontic Clear Aligners to bring your teeth into a desirable position. Created from a transparent, BPA-free material, your aligner trays provide a discrete solution to crooked teeth. Without the need for metal brackets or wires, your aligners provide the same health benefits of straighter teeth while providing an easier ability to clean your smile during treatment. This is because aligners are temporarily removable compared to a more permanent bracket-and-wire treatment option.
Improving Oral Health During Orthodontic Correction
One of the many benefits of clear aligners over their traditional braces counterpart is that they do not interfere with your existing oral hygiene routine. While metal braces place brackets and wires that impede your ability to apply a brush and floss, you can remove your clear aligners when it is time to clean your teeth. Because they simply pop on and off your smile, you will also remove your treatment appliance when enjoying meals. While braces can collect debris, clear aligners can reduce plaque formation by avoiding the buildup of food particles. Remember that the effectiveness of clear aligners corresponds to wearing them as instructed, so remember to reapply them shortly after eating.
Receiving Treatment With Orthodontic Clear Aligners
When you visit our office, we can determine if you are a candidate for correction with Orthodontic Clear Aligners. We will take images of your teeth to create a digital impression of your bite. This model allows for the creation of your custom aligner trays, as each person's bite is unique. You will wear your trays while you sleep and most of the waking day to gradually straighten your smile. At the appropriate time, we will instruct you to wear the next tray in your set.
Talk To Your Prairie Village, KS Dentist About Orthodontic Clear Aligners!
Orthodontic Clear Aligners benefit your oral hygiene both during and after treatment! This solution provides a set of removable alignment trays to gradually shift your teeth over time. If you would like more information about our orthodontic service, please contact your Prairie Village, KS dentist's office at 913-901-8585.