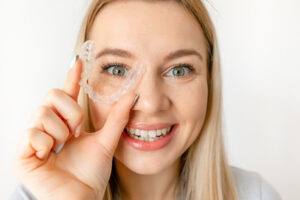 When deciding to pursue orthodontic treatment, you should be aware of the multiple benefits of straightening your teeth. Not only do orthodontics greatly improve the appearance of your smile, but they have significant oral health benefits as well. Straighter teeth are easier to access when brushing and flossing which reduces the likelihood of tooth decay. They help prevent wear and tear to your enamel by more evenly distributing the pressure of your bite. By bringing your jaw into a comfortable position, orthodontic treatment can lower your risk of joint problems.
Your Prairie Village, KS dentist is proud to offer an alternative solution to fixing the malocclusion of your teeth. Orthodontic Clear Aligners address the same problems as traditional braces in a more discreet manner. With this therapeutic solution, you can straighten your teeth without calling attention to the appliance's placement in your mouth.
Selecting Orthodontic Clear Aligners Over Traditional Bracket-And-Wire Metal Braces
While aligners and traditional bracket-and-wire braces both help you correct spacing issues with your teeth, Orthodontic Clear Aligners provide key additional benefits. As problems with gaps and overlaps come into a more desirable position, your teeth gain a beautiful new appearance, but some patients find the look of metal braces to be jarring. Made from a BPA-free translucent material, Orthodontic Clear Aligners offer a discreet appearance that garners less attention when meeting with others. Because they are removable, this solution assists your oral hygiene practices by not accumulating food debris at mealtime. Simply take off your aligners whenever you eat or brush your teeth. With Orthodontic Clear Aligners, there are no permanent wires that impede your ability to floss between teeth and prevent tooth decay.
Beginning Treatment With Clear Aligners
We will examine the extent of your malocclusion to evaluate if Orthodontic Clear Aligners are a proper treatment for your smile. We will take custom images of your teeth for the design of your aligner system. When your appliances are ready, you will receive a set of trays that are worn throughout the treatment period. Each pair of aligners will gradually bring your teeth further into position. Because the success of this therapy corresponds to your adherence, make sure to wear the aligners at all times instructed by your dentist. You can freely remove them to eat or clean your teeth, but they should generally be worn around the clock otherwise.
Talk To Your Prairie Village, KS Dentist About An Alternative Orthodontic Treatment!
To improve the appearance of your smile and prevent the oral health problems of malocclusion, consider treatment with Orthodontic Clear Aligners. This system gradually moves your teeth into desirable position with sets of alignment trays. If you would like more information about orthodontic service, please contact your Prairie Village, KS dentist's office at 913-901-8585.