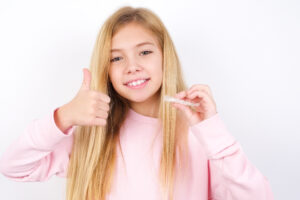 As your child enters their teen years, it is time to determine if orthodontic corrective work is appropriate for straightening the spacing of their teeth. At this stage of development, a teen's oral structures are more malleable than later on in adulthood. This means that straightening their teeth will generally take less time than if they wait until full maturity. Because issues with dental alignment cause oral health problems as well, seeking corrective care provides much more than desirable esthetic benefits. While traditional bracket-and-wire metal braces are seen as a rite of passage by some, your teen may prefer improving their smile with a more discreet solution.
Your Prairie Village, KS dentist offers a convenient orthodontic treatment for your teenager with Orthodontic Clear Aligners. This alternative solution fits snugly over the teeth of your child and is nearly invisible in appearance. This can reduce apprehension towards corrective treatment that teenagers feel when considering the appearance of traditional orthodontics. Your child can enjoy the benefits of a straight smile without calling any attention to the adjustment solution itself!
Discreet Orthodontic Treatment For Your Teen
Children are no strangers to being criticized for deviations in their personal appearance. Unfortunately, this means they can shy away from receiving the critical benefits of orthodontic care to support the health of their smile. Left untreated, problems with spacing can increase risk for cavities and gum disease while causing uneven wear and tear on individual teeth or stress in the muscles of their jaw. Orthodontic Clear Aligners allow your child to seek preventative treatment for these potential problems while hiding the corrective appliance. Made from a BPA-free material, Orthodontic Clear Aligners provide a series of custom designed trays to systematically move teeth into a straighter position. This makes teeth align properly and allows for more easy cleaning. Because they are removable, your child can take off the device when brushing and flossing to reach every nook and cranny of their mouth. This compares favorably to traditional braces which leave permanent wires that trap food particles between each meal.
Is Your Teen A Candidate For Orthodontic Clear Aligners?
Orthodontic Clear Aligners are best suited for patients with mild to moderate cases of misalignment. Because your teen may require a more comprehensive solution, we will perform a full examination to diagnose the severity of their malocclusion. The use of advanced dental technology gives detailed digital imaging that allows us to determine the best treatment possible. We will only recommend the use of Orthodontic Clear Aligners when they are appropriate for your child's care.
Speak With Your Prairie Village, KS Dentist About Clear Aligner Treatment Today!
Orthodontic Clear Aligners can improve problems with the spacing of teeth while minimizing their appearance in your child's mouth. This solution provides a series of trays to gently shift teeth into a straighter position. If you would like more information about orthodontic service for your teen, please contact your Prairie Village, KS dentist's office at 913-901-8585.