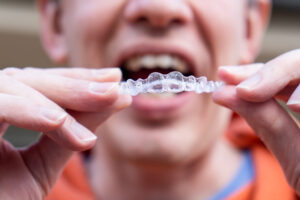 Would you like to straighten crooked teeth, but prefer not to wear traditional orthodontic wires and braces? An uneven smile can harm anyone's confidence, but solutions made of metal can draw unwanted attention as well. Seeking an alternative orthodontic treatment with clear aligners can correct your dental alignment in a discreet manner, giving you a more attractive smile while also improving your oral health. You will be pleased at how your Prairie Village, KS dentist's office can provide a solution that allows you to continue smiling at work or at home without disruption. Take control over your appearance and fix your alignment on your own terms with this tactful method.
Orthodontic Clear Aligners Are An Alternative To Traditional Metal Braces
Clear aligners correct irregular crooked or gapped teeth, just like their traditional bracket-and-wire counterparts can, while providing additional benefits. When properly aligned, your teeth's function will improve thanks to a more even distribution of your bite's pressure. They can become easier to clean, which helps you obtain the whiter smile you desire. However, the ordeal of wearing clunky metal brackets and wires in public may seem like too much for some patients. Our alternative solution is nearly invisible to the naked eye, allowing you to go about your day with them undetected. Your friends and coworkers may not notice your alignment treatment unless you tell them about it.
Unlike metal braces, our system can be removed at mealtime and when brushing and flossing your teeth. Metal brackets and wires catch food throughout the day and can make effectively flossing your teeth a real challenge. The alternative will allow you to continue fighting the accumulation of plaque and tartar unhindered by any wire obstacles.
A Simple Treatment Schedule
Your dentist will determine if clear aligner treatment is an appropriate procedure for you by first examining your tooth misalignment. Moving forward, they will deliver a system of trays that you will wear through the majority of your day to shift your teeth into place. Pay close attention to the instructions of your dentist, because success of treatment corresponds with adherence to wearing each tray. You will visit your dentist periodically to have them examine your smile's development. Treatment time can be faster than traditional metal braces!
Talk To Your Prairie Village, KS Dentist About Clear Aligner Treatment Today!
Clear aligners can improve the appearance of your smile in less time than other traditional orthodontic solutions. This system benefits your look by shifting teeth into properly proportioned alignment one tooth at a time. If you would like more information about improving your smile in this manner, please contact your Prairie Village, KS dentist's office at 913-901-8585.