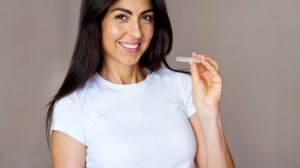 Are your teeth not as straight as you would like? A crooked smile can bring down anyone's confidence, but did you know that dental misalignment can impede your oral health as well? Pursuing orthodontic treatment with clear aligners can give a more attractive smile while improving the strength and function of your dentition. You may be surprised at how easily our Prairie Village, KS dentist's office can provide a solution that fits into your daily oral hygiene routine. An alternative to metal orthodontics will improve your appearance without calling attention to an unsightly appliance protruding from your teeth. Your friends and family may not even notice your alignment placement unless you let them know!
Treating Crooked Teeth With A Simple Consultation
Our examination process to identify if you are a good candidate for clear aligner treatment is performed in a single day. We will diagnose the cause of your dental misalignment and determine if they can be moved into a more attractive position.  We focus primarily on the esthetics of your smile, which often allows correction to be achieved within less than a year compared to the multiyear schedule that other orthodontic services may require. To treat your smile, we will deliver a set of clear plastic trays uniquely designed to fit the shape and contour of your teeth. Each individual tray will make gradual, targeted adjustments to move your smile into proper position. We encourage you to wear each tray according to schedule throughout your entire day, but you can remove them to brush your teeth and at meal time.
Benefit From Orthodontic Clear Aligners
Our treatment is a popular alternative for older teens and adults who want to improve their looks with discretion in school or the workplace. Our orthodontic clear appliances are nearly invisible to the naked eye, unlike traditional metal bracket and wire devices. Standard braces can make flossing a real chore, but you will perform your daily hygiene routine by simply removing and replacing your tray before and after brushing. Furthermore, our solution provides comfort through form-fitting acrylics customized to the contours of your teeth. They will not scrape or poke the soft insides of your cheeks with harder materials. For many patients, the greatest benefit is how quickly treatment takes to complete. You may be surprised to finish the entire cycle of trays in less time than you may anticipate.
Speak With Your Prairie Village, KS Dentist About Clear Aligner Treatment Today!
By moving your teeth into a well-proportioned alignment, clear aligners can improve the appearance of your smile in less time than many traditional orthodontic braces solutions. If you would like to find out more about the benefits of improving your smile with this method, please reach out to your Prairie Village, KS dentist's office at 913-901-8585.