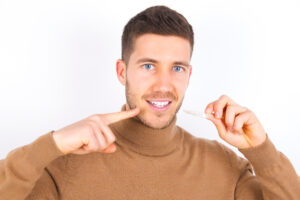 There are many reasons why people experience doubts about the way they look when they smile and speak. If you have teeth that are too close together, the visible crowding that results can hurt your appearance because teeth may jut out, appear recessed, or generally look out of position. At our Prairie Village, KS dentist's office, we can recommend a patient-friendly solution for this, one that can preserve your appearance and minimize changes to your daily routine. Orthodontic Clear Aligners have helped many people who want a solution for crowding, gaps between teeth, and other problems linked to malocclusion. These appliances can also have positive effects on your oral health, as they can fix problems with spacing that impact your bite function and oral hygiene efforts.
Are You Bothered By The Way Your Teeth Overlap?
Even if there are only minor overlaps between teeth, the appearance of crowding can prove distracting. This is a flaw that can take away from your overall confidence in your smile both because it makes it appear asymmetrical and because it creates specific issues with teeth that look out of place and awkward. In other words, this can be the kind of issue that makes you less likely to show off a confident smile and more likely to try and keep your teeth hidden! With the option of treating the matter discreetly, you can feel better about what treatment can do for you.
Choosing To Start Treatment With Orthodontic Clear Aligners
Making the choice to use Orthodontic Clear Aligners instead of metal braces means choosing a discreet, patient-friendly means of moving teeth, one that proves surprisingly convenient. At any time when your appliances might be in your way, you can simply remove them so that they no longer create interference. Throughout the day, you can leave them in place without worrying that they are attracting unwanted attention, as their clear design makes them difficult to notice.
What You Gain From Fixing Poor Smile Alignment
By learning more information about how clear aligners can help you, it becomes possible for you to see the full benefits of having your crooked teeth straightened. Better alignment can improve your bite function, which can have the effect of reducing tension, better distributing bite force, and lowering your risk for TMJ disorder. You can also have an easier time keeping teeth clean when they do not overlap, as this will make it easier for you to reach areas that were previously difficult to access.
Talk To Your Prairie Village, KS Dentist About Treatment With Orthodontic Clear Aligners
With Orthodontic Clear Aligners, you can do something meaningful about poorly spaced teeth without the need to use metal braces. If you would like to find out more, reach out to our Prairie Village, KS dentist's office at 913-901-8585.