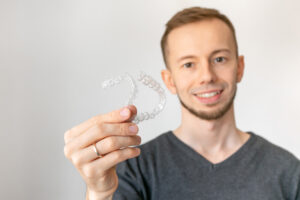 What can you really do about your crooked smile if you are not comfortable with metal braces? Through the use of Orthodontic Clear Aligners, patients at our Prairie Village, KS dentist's office can take on problems with any gaps or overlaps between their teeth, and they can do so without feeling embarrassed by the presence of a distracting appliance. The set of aligners that you receive will be custom-made to help you move teeth that are out of position, which can lead to cosmetic as well as oral health benefits. By committing to care, you can have the cosmetic improvements you want as well as positive changes for your oral health!
Can Clear Aligners Really Take The Place Of Metal Braces?
For people with more significant spacing problems, it is possible that treatment will have to depend on traditional metal braces. However, for many individuals, this will not be necessary. Instead, they can see their desired results through the movements made by Orthodontic Clear Aligners. By taking this approach, you can make the improvements to your smile that you want, but there will be no period of adjustment with a fixed aligner, and no need to worry about the presence of an appliance that draws unwanted attention.
Using Your Aligners To Improve Your Smile And Oral Health
With your clear aligners, you will be able to gradually move teeth that are out of position in order to positively change your smile. The set provided by our practice will gradually straighten out overlapping teeth and close any gaps that are present when you smile and speak. This work can deliver cosmetic improvements that excite many people, but we should note that you can also see improvements in your oral health. Better alignment can mean better dental function, something that will help you reduce tension on your jaw joints and muscles. It can also make smile care easier, as you will not have to worry about teeth being in positions that make them more difficult to keep clean.
What To Expect After Your Treatment Is Over
The end of your aligner treatment means the start of life with your straightened smile. By taking care to make adjustments so that gaps and overlaps no longer affect you, we can give you a more symmetrical appearance, and one that no longer has noticeable problems that can draw the focus of others. This work can also be an important part of a larger plan to address TMJ disorder.
Talk To Your Prairie Village, KS Dentist About Treatment With Clear Aligners!
There are several advantages to planning treatment with Orthodontic Clear Aligners. To learn how these appliances can benefit you, please reach out to our Prairie Village, KS dentist's office at 913-901-8585.