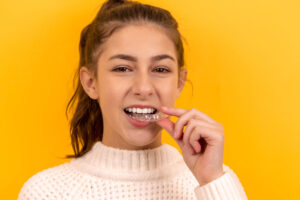 When you take on problems with teeth that are improperly spaced, you can see exciting cosmetic improvements as well as changes that benefit your oral health. At our Prairie Village, KS dentist's office, we offer a conservative, patient-friendly treatment for poor spacing in the form of Orthodontic Clear Aligners. To make sure that you see the right results from these appliances, we carefully measure your teeth and oral structures before your adjustment actually begins. The detailed information we gather when planning your treatment makes it possible for us to provide appliances that are just the right shape and size for you, and to make sure each one provides the right movement for teeth.
Clear Aligners Are Personalized For Each Patient
The right approach to treatment with Orthodontic Clear Aligners is one that is personalized for each patient. That means we need to closely study your teeth and oral structures before we provide your appliances. This gives us the information needed to determine how your teeth should be moved during your adjustment. It also gives details on their sizes and shapes so that your aligners fit securely and remain in position.
Beginning The Teeth Straightening Process
You will begin your orthodontic treatment with an appointment to have your bite and teeth evaluated with our digital imaging technology. Because we have the ability to scan and take digital impressions, you will not have to worry about creating a physical mold by biting into plaster. The details that we gather provide the information needed to design personalized aligners. Once they are ready, you will receive your set, and you can begin wearing them in order to make impressive changes to your smile.
How Correcting Your Smile Alignment Improves Your Oral Health
By straightening your teeth, you can improve your appearance, as you can show off a more symmetrical smile and enjoy freedom from issues with visible gaps and overlaps. What you also do by improving your smile in this way is make improvements to your dental function. Straighter teeth can apply more even pressure, so you will not have to worry about an imbalance that creates strain on your joints and muscles. Fixing teeth that overlap can also help by making it easier for you to clean your teeth.
Talk To Your Prairie Village, KS Dentist About Treatment With Clear Aligners
By beginning an orthodontic treatment with personalized clear aligners, you can take on issues with your appearance and oral health. Through the use of these appliances, we can help you show off a more attractive smile, and we can do so while giving you a less invasive approach to corrective work. To find out more, please call our Prairie Village, KS dental office at 913-901-8585.