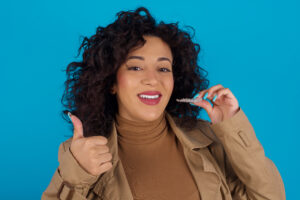 When you finish treatment with Orthodontic Clear Aligners, you can have a more attractive smile to show off, and you can enjoy welcome oral health improvements. With this in mind, it can be easy to see why you should start corrective work! Our Prairie Village, KS dentist's office is ready to help you find out how clear aligners can serve you well as an alternative to metal braces. Your treatment will be easier to fit into your daily life, and it will deliver the positive overall changes that you hope to see from orthodontic work with traditional appliances.
Treatment With Aligners Can Improve Your Smile And Oral Health
What makes people interested in orthodontic work? For many, the goal can be to make meaningful smile improvements. That being said, this work can also have real value for your oral health. Straighter teeth can provide better bite function, so you put less stress on your jaw and more evenly distribute bite force between your teeth. You can also have an easier time keeping up with your oral hygiene efforts. As you learn more about Orthodontic Clear Aligners, you can learn how these different benefits are delivered, and you can learn how much easier treatment is with discreet and removable appliances.
We Can Provide A Set Of Aligners Personalized For You
As we plan your orthodontic treatment, we will take digital measurements and images of your teeth and oral structures to provide your aligners. A set of custom-made appliances will help you to gradually move your teeth into more attractive positions. Each one is made to provide minimal interference with your smile, so you will not have to worry about how treatment might impact your social and professional life. You can also welcome the option of having easily removed appliances that you can take out at any time.
Adjusting To Daily Life While You Wear Orthodontic Clear Aligners
Your appliances are designed to have minimal interference with your daily life. Their clear design makes it hard for others to notice that you have your aligners in place throughout the day. To properly clean your teeth and eat without difficulty, you can take these appliances out. One of the many benefits to this treatment approach is that they offer more control and flexibility, making it easier to incorporate into your regular life.
Talk To Dr. Browne About Starting Treatment With Orthodontic Clear Aligners
Through treatment with Orthodontic Clear Aligners, you can take on problems with your smile and even make real improvements to your oral health. Our practice is happy to help you plan your personalized treatment, which makes it easier to begin your corrective work! If you would like to find out more, please call our Prairie Village, KS dental office at 913-901-8585.