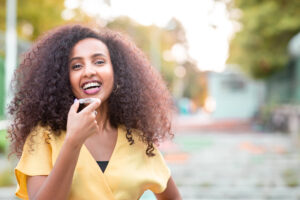 As long as you feel self-conscious about your issues with poor teeth spacing, you can have larger anxieties about your general appearance. In other words, this one issue can have a big impact on your confidence; unfortunately, it can also have potential consequences for your oral health as well. Why do people who feel unhappy with their smile alignment sometimes put off treatment? Many worry that they will have to depend on metal braces, which means wearing a fixed, conspicuous appliance for an extended length of time. However, you may be able to avoid this by instead using Orthodontic Clear Aligners. Our Prairie Village, KS dentist's office can examine you to confirm if you are a good candidate, and from there we can discuss the benefits of an adjustment!
Are You Tired Of Letting Poorly Aligned Teeth Hurt Your Confidence?
Even minor spacing issues between teeth can hurt your smile in ways that are difficult to both hide and ignore. Any gaps or overlaps present between your teeth can attract unwanted attention. General issues with an uneven smile can also hurt by giving your appearance an asymmetrical quality that is disruptive. Letting these issues continue to hurt your confidence can lead to worsening frustration over time. Fortunately, you can make changes discreetly by looking into the benefits of Orthodontic Clear Aligners!
Choosing To Begin Treatment With Orthodontic Clear Aligners
By beginning treatment with Orthodontic Clear Aligners, you can finally make changes that address your embarrassment over smile gaps and overlaps. You will receive a set of aligners that gradually move your teeth into more attractive positions. As you move from one appliance to the next as part of your treatment, you can see how the movements are improving your appearance. During your adjustment, you can feel comfortable in social and professional environments, as your appliances will not attract unwanted attention thanks to their construction with clear materials.
Smile Adjustments Offer More Than Just Cosmetic Benefits
Through work to correct poorly spaced teeth, we can provide you with more than just cosmetic changes. By moving teeth that are out of place, you can make bite movement easier and more comfortable. At the end of your procedure, you can have less difficulty applying and releasing pressure evenly, and you can distribute that pressure more evenly across your teeth. This lowers your risk for TMJ disorder, and it will help you reduce excess wear and tear on certain teeth.
Talk To Your Prairie Village, KS Dentist About Aligners And Your Cosmetic Concerns
Through orthodontic work with clear aligners, you can see welcome cosmetic changes without the frustration that can accompany treatment with traditional metal braces. If you would like to learn more about how we can help you, please call our Prairie Village, KS dental office at 913-901-8585.