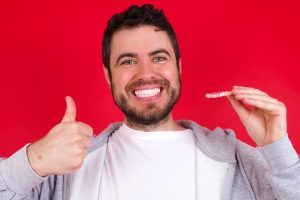 The right cosmetic treatment can target issues that hold you back from showing off your best smile. For many people, the appropriate service would be one that addresses poorly spaced teeth. Unfortunately, this often leads to concerns that the only way to make desirable changes is through orthodontic work with metal braces. At our Prairie Village, KS dentist's office, we can provide a more attractive option with Orthodontic Clear Aligners. These custom appliances make orthodontic work discreet, and they can lead to cosmetic benefits as well as welcome changes that improve your oral health!
Are You Tired Of Feeling Unhappy With Your Misaligned Teeth?
Even if you only have minor problems with teeth spacing, the effect on your overall appearance can be difficult for you to ignore. There are many positive features we hope to show off when we smile; gaps, overlaps, and other signs of poor alignment create unflattering issues with asymmetry, and they can draw unwanted attention on their own. You can deal with these problems by starting treatment to straighten your teeth. Orthodontic Clear Aligners give you the benefit of a more discreet form of care, as these appliances will be difficult to notice. You can also be glad to have aligners that are easy to remove, which means they will not interfere with your daily life.
Making Orthodontic Treatment More Convenient
Custom clear aligners are capable of moving teeth into more attractive positions gradually, with each appliance representing a step in your total journey to a more attractive smile. Your dentist will carefully evaluate your teeth with digital imaging technology, and with those measurements we can provide aligners that are comfortable, secure, and easy to wear without drawing unwanted notice. After you finish with your last aligner, you can show off a smile that is more uniform, and you can no longer feel self-conscious about spacing problems that stand out.
What Else Can You Gain From Completing Treatment To Straighten Your Teeth?
When you look into orthodontic treatment, you can discover that the right corrective work can help with more than just your appearance. When you have teeth that overlap, you can have a more difficult time keeping your smile clean, and that can leave you more vulnerable to cavities and gum disease. Another concern is that your uneven spacing can stop you from maintaining a comfortable bite function. If this is the case, corrective work can reduce your risk for TMJ problems!
Talk To Your Prairie Village, KS Dentist About Clear Aligners And Cosmetic Improvements
Through treatment with Orthodontic Clear Aligners, we can help you smile with more confidence, and we can support you by improving your oral health. If you would like to find out more, please call our Prairie Village, KS dental office at 913-901-8585.