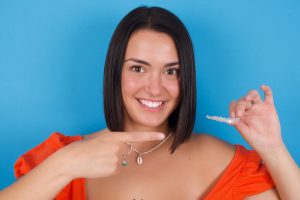 How should you approach orthodontic treatment? Can you look into alternatives to metal braces, or will you need to rely on fixed, visible appliances to make the changes that need to happen to straighten your smile? At our Prairie Village, KS dentist's office, we can help you understand the advantages to treatment with Orthodontic Clear Aligners. Choosing this type of care over work with metal braces means enjoying a less conspicuous adjustment, and it also means you can wear your appliances without worrying that they will be in your way whenever you eat or clean your teeth!
Are You Ready To Start Orthodontic Treatment?
You can enjoy several benefits from orthodontic treatment. One is that, simply put, your smile will be improved by the corrective work, as you can look forward to having your teeth moved to correct problems with poor spacing that leave you with gaps or overlaps between teeth. You can also make changes to your bite function, and even make corrections that improve your ability to maintain your oral hygiene!
Benefits Of Orthodontic Clear Aligners As An Alternative To Traditional Braces
When you start a treatment with Orthodontic Clear Aligners, you will use a set of appliances that are both difficult to see and easy to remove. This means you can make changes discreetly, so you will not have to feel self-conscious in professional or social environments where you want to look your best. The ease with which you can remove appliances ensures that you will not have problems with eating or cleaning your teeth. In other words, you can see even fewer changes to your daily routine than you anticipate! This approach can even provide more convenience by removing the need for manual appliance adjustments that require more appointments with your dentist.
What You Gain By Completing An Adjustment
In addition to enjoying a more attractive and symmetrical smile, you can look forward to oral health benefits from your treatment. Better-aligned teeth can improve your bite function, which lowers your risk for TMJ problems and helps you apply force more evenly among teeth. You can also have an easier time preserving your smile health because you no longer have to work to clean overlapping teeth that are harder to fully treat with your toothbrush and dental floss.
Talk To Your Prairie Village, KS Dentist About The Benefits Of Clear Aligners
If you want to start orthodontic treatment but feel uneasy about traditional aligners, you can be excited by what clear appliances can do for you. With these appliances, you can enjoy a more discreet, comfortable treatment experience, one that delivers positive results! If you would like to find out more, please call our Prairie Village, KS dental office at 913-901-8585.