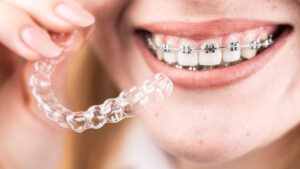 Would the look of your smile improve if it were a bit straighter? If you have been thinking about ways to correct the alignment of your bite, consider an alternative to traditional metal braces. Orthodontic Clear Aligners target the visible portion of your smile to bring the esthetic results you crave in a shorter period. By taking a custom imprint of your smile, we can project how your appearance will improve after this treatment. We send your file to an offsite lab to create pairs of trays that you wear in succession. As the weeks go on, your trays pull teeth closer and closer to the desired outcome. You will soon learn that a more uniform grin is easier to clean! When teeth crowd or become crooked, even the most steadfast oral hygiene routine can leave bacterial deposits in places you are unable to reach. Similarly, because clear aligners are removable, you will have an easier time brushing compared to when wearing permanent metal braces.
At your Prairie Village, KS, dental office, we help our patients envision results and provide them in quick order! By exploring your options for alternative orthodontic correction, you can receive the same benefits with less of an impact on your current look. Clear aligners rely on a BPA-free, translucent material that is nearly invisible to the naked eye. That means it's your choice to reveal your new appliance to friends and family or leave it a secret!
When Your Oral Health Is Threatened By A Crooked Smile
While the cosmetic effect of bringing your teeth into position is quite obvious, the health and function benefits can be even more desirable! We can separate crowded teeth to reveal parts of your grin you could not clean before. This means preserving the healthy, white, enamel while fighting tooth decay and gum disease. Your appearance also benefits by cleaning the sticky, yellow film that bacteria and plaque create!
Designing Your Custom Clear Aligners
At your smile consultation, we will take digital imagery of your oral structures to show you how you can expect your smile to look after correction. This rendering uses the same software that will come into play when designing your aligner trays. Each tray is created to gently bring your teeth into the appropriate position over many months. When you are done with a pair of clear aligners, you will move on to the next set until the treatment is completed. Because there are no wires to adjust, clear aligners require far less time in the dental chair.
Talk To Your Prairie Village, KS Dentist About Straightening Your Smile!
If you would like more information about Orthodontic Clear Aligners or any other of our dental services, please contact your Prairie Village, KS dentist's office at 913-901-8585.