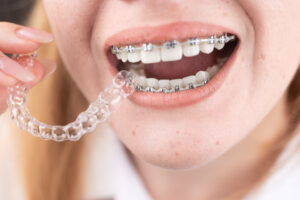 Have you been thinking about fixing problems with your smile's alignment? If your bite is out of order or you have significant spacing gaps, clear aligners could correct these problems. This alternative option to traditional braces provides a discreet appearance that will not call as much attention to itself as its bulky metal counterparts. While the esthetic benefit of a straighter smile is self-evident, did you know that orthodontics provides significant improvement to your bite's function and health? A straighter smile is easier to clean, and with Orthodontic Clear Aligners, you can enjoy an easier time cleaning your smile during treatment as well. With braces, their permanent brackets and treatment wire can catch debris from your meals, increasing your risk for cavities during treatment. The removable nature of clear aligners means simply taking them off when it is time to eat. Similarly, you do not have to compete with your appliance when brushing or flossing each morning and night.
At your Prairie Village, KS, dental office, we help patients attain their smile goals with several restorative and cosmetic treatments. We can examine to determine if orthodontic therapy helps you reach the results you are after. After treatment with clear aligners, you can enjoy a confident smile that you love showing to others!
Dental Misalignment Increases Your Risk For Cavities
When your teeth do not align properly, certain teeth take a disproportionate amount of force from your bite. This leads to quickly wearing down the enamel protection of their outer layer, exposing the inner portion to decay and infection. This means that regular brushing and professional cleanings will not be enough to safeguard against cavities while your teeth wear down. To correct your bite, we could discuss options such as clear aligners or dental crowns that bring your teeth into harmony with one another.
Designing Your Custom Set Of Clear Aligners
At your clear aligner consult meeting, we will take a digital imprint of your grin to project what it will look like after treatment. Seeing this image on a screen in our office can help you decide whether or not to move forward. If you elect to begin treatment, we send the imprint file to an offsite lab where technicians fashion a set of custom clear aligners. When you receive your trays, you begin wearing each pair in succession as they gently push your teeth into the correct position.
Speak With Your Prairie Village, KS, Dentist About Improving Your Smile With Orthodontics!
If you would like to explore an alternative to correcting the position of your teeth with traditional braces, give clear aligners a chance! To learn more about this service, please contact your Prairie Village, KS dentist's office at 913-901-8585.