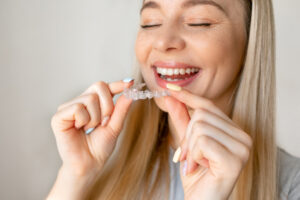 Is your smile as straight as you would like to be? If you have been thinking about your orthodontic options for a straighter smile, clear aligners provide a multitude of benefits. These translucent plastic trays pursue the same goal as traditional metal braces with a more aesthetically pleasing presence during treatment. By talking to your dentist, we can inspect your level of malocclusion and help decide if this is an appropriate treatment option for you. If you find yourself hesitant to wear braces because of how bulky they appear or their permanent attachment for months, consider this alternative. Because you simply slide your aligner trays onto each row of teeth, you may take them off when it is time to enjoy a meal or brush your teeth. That means that keeping your oral hygiene habits is much easier without the risk of debris becoming stuck on your appliance.
At your Prairie Village, KS, dental practice, we focus on both the functional and cosmetic effects of providing a more uniform style. That is why we offer clear aligner treatment that can maintain your confidence during the correction period. If you are embarrassed by crowding or crooked teeth, you can take your frustrations to head on with an easy-to-wear solution that gradually pulls your teeth into position. Enjoy a healthier smile that is more attractive in as little as a year.
Take On Problems With Your Smile's Alignment With Orthodontic Clear Aligners
If your teeth are not in proper alignment, this can be easily seen every time you smile or look in the mirror. This can make you feel embarrassed or less likely to engage with others when you become self-conscious about your appearance. By taking a cosmetic approach to orthodontic correction, we design a set of aligner trays that pull your teeth into a uniform position. This means no longer worrying about unsightly gaps or crooked overlaps that call unwanted attention. When you are finished with your treatment, you can put your best smile forward!
Should I Consider Clear Aligner Treatment?
When you visit our office for a consultation, we will take digital images of your teeth and other oral structures to provide a software model of how your smile will look after correction. If you are a candidate for precise aligner treatment, we will send this same model to an offsite lab where your trays are created. Then over the coming months, you will wear each successive pair of trays as they pull your teeth into position.
Speak With Your Prairie Village, KS, Dentist About Clear Aligner Treatment
When you decide to correct your smile, you can enjoy results that last a lifetime! To find out more and schedule a visit, reach out to your Prairie Village, KS dentist's office at 913-901-8585.