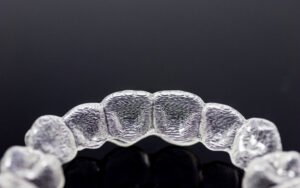 Do you have dental misalignment? If so, this could mean poor oral health and negative impacts on smile beauty. But to correct the issue in a short time period, we could use clear and custom aligners. In today's blog, your Prairie Village, KS, dentist can provide Orthodontic Clear Aligners to make major changes in as little as six months.
The Causes and Dangers of Uneven Smiles
A number of factors could lead to the onset of dental misalignment. For example, losing baby teeth prematurely as a child could alter how the permanent teeth erupt, and complications could also occur if a permanent tooth is impacted. Thumb sucking in childhood could be a factor as well. Injury to the face or jaw, or tooth loss in the teen years and adulthood could lead to uneven smiles, as could complications with the growth of the jaw and the eruption of the teeth may be a factor as well. When we have uneven smiles, this provides places for food and drink particles to become trapped, increasing the risk of tooth decay and gum disease as thorough brushing and flossing is difficult. Other complications include an increased risk of TMJ disorder and bruxism (teeth grinding) and embarrassment regarding your appearance.
Creating Plastic Aligners
If you want an even smile, then schedule a consultation so we can take a look at your smile with detailed digital imaging systems, identifying the cause of misalignment and assessing your overall severity too. From there, we will create a 3D computer impression that will be used in a lab setting to design and craft your clear aligners from a BPA-free plastic material. Each set is custom-made to ensure optimal treatment and a comfortable fit as well. No need for metal braces at all!
The Treatment Process
You will wear a set for about two weeks, for a period of 20 to 22 hours a day. After which you will upgrade to the next set in the series. The total treatment time depends on the extent of your misalignment. Since the orthodontics focus on your front teeth first this helps improve esthetics in a shorter treatment time. For some, optimal results could be possible in as little as three to six months. You then remove them before meals or prior to brushing and flossing, so you can enjoy better oral health. If you have any questions about our clear aligners, then contact our team today to learn more.
TALK TO YOUR PRAIRIE VILLAGE, KS DENTIST ABOUT CLEAR ALIGNER TREATMENT
Our team wants to help you obtain an even and beautiful smile in 2023 and beyond. To find out our clear and comfortable orthodontics, reach out to our Prairie Village, KS dentist's office at 913-901-8585.