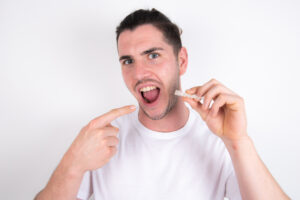 Can orthodontic work easily fit into your daily life? Will you see meaningful results from corrective work with appliances that are difficult to see and easy for you to remove? Our Prairie Village, KS dentist's office supplies reliable smile care in different forms, including care with clear appliances. Removable clear aligners can gradually move teeth so that gaps and overlaps no longer affect the way you look. By using Orthodontic Clear Aligners, you can correct flaws and show off a more symmetrical smile. As an alternative to work with metal braces, these aligners provide a more conservative and discreet approach to treatment while still producing the changes you want!
Can I Really Enjoy Discreet Treatment For Poorly Spaced Teeth?
If you want to see real results from orthodontic treatment, you can find that metal braces are not the only option that you have. A set of customized Orthodontic Clear Aligners can make the successive movements needed to take care of gaps, overlaps, and other problems linked to malocclusion. To confirm that they are right for you, Dr. Browne can perform a review of your teeth and oral structures. Advance imaging technology helps us do more than just confirm treatment is right for you, as this kind of technology can also provide information used to craft appliances that are prepared just for your needs!
What Will Removable Aligners Be Like?
Removable aligners made with clear materials can supply a discreet and effective solution to difficulties with malocclusion. They minimize changes to your daily life because they are both easy to take out and difficult for other people to see. You can take out the aligners you are wearing before you eat or clean your teeth, so you will not have to amend these activities over the course of your corrective work. Any time you are wearing them, you can remain confident in how you look because they are difficult to notice.
How Much Can Treatment Do For My Smile?
Because there are different cosmetic dental procedures capable of helping you smile with more confidence, you can have questions about the benefits of clear aligners versus other treatment options. What you should know is that in addition to making your smile more symmetrical, these appliances offer support for those who are concerned about the impact of malocclusion on dental function. They can also help by fixing teeth that overlap, which makes them easier to care for when you brush.
Talk To Your Prairie Village, KS Dentist About Orthodontic Work With Clear Aligners
By talking to Dr. Browne about treatment with Orthodontic Clear Aligners, our practice can provide a positive experience with care that provides both cosmetic and oral health benefits. If you would like to find out more about how this and other services can benefit you, reach out to our Prairie Village, KS dentist's office at 913-901-8585.