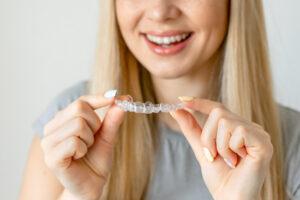 What can you realistically expect from a procedure that straightens your teeth? Is it possible to fix gaps and overlaps without wearing metal braces for a length of time? At our Prairie Village, KS dentist's office, we can provide the right improvements while making your time during orthodontic treatment easier. A set of Orthodontic Clear Aligners can make your procedure discreet, and they can make it easier for you to see results without being asked to make alterations to your daily life. Your adjustment can help you smile with more confidence, and it can also help you avoid certain oral health difficulties associated with malocclusion.
Does The Idea Of Orthodontic Work Make You Uneasy?
Even if the idea of fixing poor teeth spacing appeals to you, it can be hard to feel confident about treatment when you expect your orthodontic appliance to interfere in your daily life. What can you do about malocclusion if you do not want to wear a fixed appliance? How can you make an adjustment without wearing conspicuous bracket-and-wire braces? Our practice can recommend Orthodontic Clear Aligners for your procedure. This makes your adjustment discreet, and it can allow you to maintain your normal routine, as these appliances are easy for you to remove on your own.
Planning Your Personalized Care With Orthodontic Clear Aligners
Through the use of your personalized clear aligners, you will be able to gradually move teeth that are out of position without drawing undesired attention to your ongoing orthodontic treatment. Each appliance in your set is removable as well as easy to wear without attracting unwanted attention. Your dentist can talk to you about your treatment timeline and what to expect from your individual adjustment; make sure that you wear your aligners consistently throughout each day to stay on track with care.
Orthodontic Clear Aligners And Your Dental Function
Did you know that poor teeth spacing can make it more difficult for you to maintain an even bite movement? When you let problems with uneven teeth go unaddressed, you can be more vulnerable to strain from an unbalanced jaw movement, something that can make you more vulnerable to TMJ disorder. This is another reason to make care a priority if you worry about malocclusion. For many people affected by this, Orthodontic Clear Aligners can provide positive results, and they can do so while making an adjustment easier to enjoy.
Talk To Your Prairie Village, KS Dentist About Orthodontic Clear Aligners
Are you interested in what Orthodontic Clear Aligners can do for you and your smile? If so, Dr. Browne can certainly help you! We can provide this treatment option to those who are concerned about the way their teeth spacing affects the way they look. In addition to helping improve your smile, these appliances can help you by making improvements that benefit your bite function and dental health. If you are ready to learn more, please reach out to our Prairie Village, KS dentist's office at 913-901-8585.