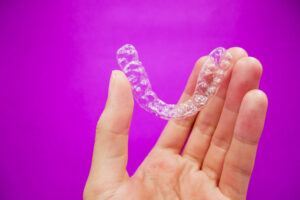 Through the right approach to orthodontic treatment, your Prairie Village, KS dentist can help you enjoy straighter teeth and a more attractive smile. Our practice gives patients the opportunity to make positive changes to the way they look with a set of Orthodontic Clear Aligners. These appliances are made to be difficult to see and easy to fit into your daily life. Each of the removable appliances in your set will be custom-made so that they fit properly and provide the right adjustments. At the end of your procedure, you can enjoy cosmetic benefits as well as positive changes in your bite health!
You Will Rely On A Personalized Set Of Aligners To Improve Your Appearance
To make sure your appliances fit properly, and to ensure that you enjoy the right corrective movements, Dr. Browne will take care to determine what shape and size your appliances should be, and how they should make adjustments, to give you the right improvements. Customized appliances do more than just provide the right fit. With advanced preparatory work, we can determine how your teeth should move, and what adjustments are ultimately required, to give you the right outcome.
How Digital Technology Helps Us Prepare For Your Treatment
By using digital imaging technology to evaluate your smile and plan your treatment, we can help you see the right benefits from work with Orthodontic Clear Aligners. The images we capture provide remarkable detail, and can do so while helping you avoid the discomfort of making a plaster mold of your bite. Once we have the images that are required, we can see to it that you receive clear aligners that are just right for you.
Life During And After Your Corrective Work
After you start treatment with Orthodontic Clear Aligners, you can look forward to a process of straightening your smile that will avoid interference in your daily life. You can count on these appliances to avoid the notice of others thanks to their clear appearance, and you can easily remove them whenever you need to take care of your smile or eat.
When you complete treatment, you can enjoy a more attractive and symmetrical smile. In addition to providing better symmetry, your care will help you by fixing embarrassing gaps and overlaps. Once complete, this work can also improve your bite function, and it can make formerly difficult to clean teeth easier to care for on your own.
Talk To Your Prairie Village, KS Dentist About Clear Aligner Treatment
Through treatment with a set of customized Orthodontic Clear Aligners, you can look forward to orthodontic work that has lasting benefits for your smile and oral health. If you would like to learn more about how we can take care of you, please reach out to our Prairie Village, KS dentist's office at 913-901-8585.