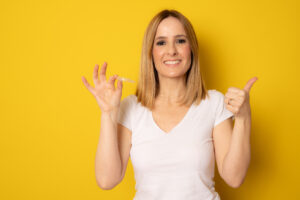 You may not realize what options are available to you if you want to straighten your smile. As an alternative to work with metal braces that are difficult to ignore and permanently stuck in place, our Prairie Village, KS dental office can recommend treatment with Orthodontic Clear Aligners. What will you gain from choosing this approach? Your appliances will be difficult to see, so they will not cause you concerns about your appearance. They also provide you with the option of removing them whenever they are in your way, so you do not have to worry about problems with eating or cleaning your teeth. At the end of your corrective work with your clear aligners, you can enjoy cosmetic improvements as well as oral health benefits from having your teeth straightened!
We Can Help You Fix Problems With Your Poorly Aligned Smile
Problems with poorly aligned teeth can make a person self-conscious about their appearance, and it can also lead to problems with their bite function and oral health. In other words, there are several reasons to look into treatment for this issue. Fortunately, your options for corrective work include more than just conspicuous metal braces. You can instead pursue treatment with Orthodontic Clear Aligners, which will help you fit care into your daily life without changing your smile or routine.
Beginning Treatment With Orthodontic Clear Aligners
Before you begin corrective work with clear aligners, Dr. Browne will make sure that we have detailed measurements of your teeth and oral structures. These are used to plan your personalized care, as they help us provide appliances that fit comfortably and provide the right movements. Their design is clear, making it difficult for others to see them. Over time, you will move from one appliance to the next, with each one taking you closer to your ideal appearance.
What To Look Forward To After Your Treatment Ends
At the end of your adjustment, you can feel excited by how much your smile has improved. What you can also enjoy is a positive change in your bite alignment, as this will make it easier for you to maintain proper jaw alignment and avoid difficulties with TMJ disorder. Another benefit is that teeth that are straightened can prove easier to keep clean.
Talk To Your Prairie Village, KS Dentist About Treatment With Orthodontic Clear Aligners
Through treatment with your custom clear aligners, we can make the work of fixing a poorly aligned smile easier! In addition to providing cosmetic benefits, your choice to pursue treatment is one that can lead to welcome oral health changes. If you wish to find out more, please reach out to our Prairie Village, KS dentist's office by calling 913-901-8585.