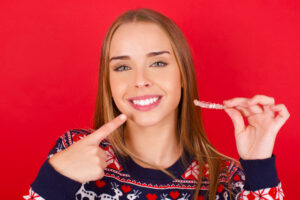 A problem with teeth that are too far apart can be a source of embarrassment as well as frustration. While you feel embarrassed by a conspicuous smile flaw, you can feel frustrated at the thought that your only solution involves metal braces. What you should know is that many people do qualify for a different approach to treatment. At our Prairie Village, KS dentist's office, we can provide Orthodontic Clear Aligners for patients who want to close gaps, fix overlaps between teeth, and generally take on problems with poor spacing. When you turn to this as a solution for your troubles with malocclusion, you can find that care is easier to undergo than you anticipated!
Are You Bothered By Teeth That Appear Too Far Apart?
If your teeth are too far apart, you can be stuck with visible gaps between them, something that can draw unwanted attention and make you unhappy with your appearance. Closing the space via orthodontic treatment can be appealing, but many are uneasy about a solution that calls for them to wear fixed metal braces for an extended duration. Instead of using this traditional approach, you can learn about the benefits of choosing Orthodontic Clear Aligners as your treatment method. We can talk to you about what to expect from this approach if you qualify, and what the process of adjusting your smile will be like.
Beginning Treatment With Orthodontic Clear Aligners
Once you are confirmed as a good candidate for this treatment approach, we can begin your corrective work with clear aligners. The appliances that we create will be made with your specific treatment in mind, which means they will both fit properly and provide the right movement to correct your smile. Each appliance represents a step in your larger journey to make your smile straight. Because they are easy for you to remove, you will not have to worry that they are in your way whenever you need to eat or clean your teeth.
Orthodontic Appliances Can Help With More Than Just Cosmetic Issues
While orthodontic work with clear aligners can have welcome benefits for your smile, this service can offer more than just cosmetic changes. By fixing problems with teeth spacing, we can improve your bite function, which lowers your risk for TMJ problems. In straightening your teeth, you also make changes that help you more easily preserve your oral hygiene.
Talk To Your Prairie Village, KS Dentist About Treatment With Clear Aligners
The right approach to correcting problems with teeth spacing can have exciting benefits for you. With Orthodontic Clear Aligners, you can deal with gaps, overlaps, and other issues without having to wear a fixed, noticeable appliance. Our practice is happy to meet with you and discuss how this service can be of value to you. If you would like to find out more, please call our Prairie Village, KS dental office at 913-901-8585.