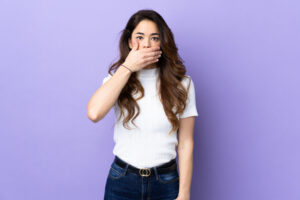 When your teeth overlap and look to be too close together, it can be difficult for you to smile with real confidence. What can you do to put this issue behind you? For many, concerns about wearing metal braces will keep them from exploring the benefits of corrective work. At our Prairie Village, KS dentist's office, we can offer a welcome alternative to care in the form of Orthodontic Clear Aligners. With these appliances, we can make the work of straightening overlapping teeth discreet. This is because the appliances that you will rely on are both difficult to see and easy to remove, so you will not have to worry that they are in your way.
Problems With Smile Alignment Can Lead To Unsightly Smile Flaws
When you have teeth that appear to be too close together, or if they seem to overlap each other in awkward ways, it can prove difficult for you to smile with the kind of confidence that you would like to project. In a situation like this, you can have more than just problems with your appearance to worry about, as alignment issues can also impact your oral health. As you learn more about Orthodontic Clear Aligners, you can find that they are capable of making corrective work easier to adjust to and easier to fit into your daily life. Your appliances will be custom-made for you so that they provide the right fit and the right corrective movements.
Talk To Dr. Browne About Treatment With Orthodontic Clear Aligners
To determine if you are a good candidate and see how your teeth can be straightened, we can perform a study of your teeth and oral structures with digital imaging technology. From the images we gather, we can provide a set of personalized aligners. You will wear each one in your set for a recommended time before you move forward with the next one. Over time, this can lead to your smile becoming gradually straighter, which can provide cosmetic as well as oral health benefits.
Enjoying The Benefits Of A Straightened Smile
The benefits that you see from corrective work with Orthodontic Clear Aligners can be easy to enjoy. After all, straightening your smile can improve your overall appearance in exciting ways, and it can give you a welcome confidence boost. Straightening teeth that overlap will help you maintain your oral hygiene, as you can have an easier time keeping the spaces where they used to intersect clean.
Talk To Your Prairie Village, KS Dentist About Straightening Your Teeth
With Orthodontic Clear Aligners, we can help you take care of your smile by discreetly straightening teeth that overlap. To find out more, please call our Prairie Village, KS dental office at 913-901-8585.