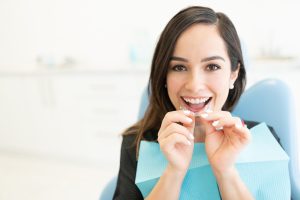 Before you know what kind of treatment is available to you, there may be certain aspects of orthodontic work that you hope to avoid. For example, some patients may worry that an adjustment will take too long, while others are more preoccupied with thoughts of how their appliance will make them look. At our Prairie Village, KS dentist's office, we can provide treatment with SureSmile Clear Aligners, an approach to orthodontic work that is discreet as well as faster than you might anticipate. With SureSmile aligners, we can prioritize the movement of your front teeth with aligners that are made to avoid detection. Patients can start to see smile improvements faster than expected, and they can feel relief over the way SureSmile aligners are difficult to see!
What Makes SureSmile Aligners Different From Other Treatments?
Corrective work with SureSmile Clear Aligners will rely on appliances that are made to avoid unwanted notice, as they consist of a clear plastic material that is difficult to see. This can make them a welcome alternative to traditional braces that rely on brackets and wires to move teeth. Of course, there are other types of clear aligners that are available to you. What makes SureSmile different from other clear appliances is the focus on shifting your front teeth into place, a priority that helps you see results in less time!
Am I A Good Candidate For Treatment With SureSmile Aligners?
Many people who have mild to moderate issues with malocclusion – poor smile alignment – will prove to be good candidates for SureSmile treatment. If your problems are more advanced, it can be necessary to look into different treatment options. For those who do qualify, our approach to care can deliver impressive results, often in less than a year! We can answer questions that you might have about SureSmile treatment if you want to make sure that you are a good candidate for an adjustment.
What Can I Look Forward To From My Treatment?
Because orthodontic work fixes gaps, overlaps, and other visible problems associated with poor smile alignment, people often associate this work with cosmetic care. While the cosmetic improvements you see can certainly be welcome, better alignment can also benefit your oral health. If your teeth currently overlap in awkward ways, there may be portions of them that are hard for you to effectively clean. You may also deal with an awkward, uneven bite because of malocclusion. At the end of your adjustment, you can enjoy life without these issues!
Talk To Your Prairie Village, KS Dentist's Office About SureSmile Aligners
With SureSmile Clear Aligners, we can help patients show off smile improvements in less time than they expect, and we can do so with appliances that are difficult for others to see. To find out more, please call our Prairie Village, KS office at 913-901-8585.