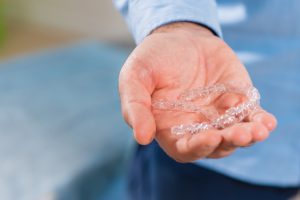 You want to do something about your issues with poor smile alignment, but you are unsure where to start. As you look into your treatment options, you can find that there are exciting alternatives to traditional metal braces. Many of those options can help you resolve problems with malocclusion discreetly, as they rely on a series of clear aligners instead of conspicuous appliances. With SureSmile Clear Aligners, you can take on trouble with your smile discreetly and in less time than other appliances require. At our Prairie Village, KS dentist's office, we can meet with you to start planning your treatment, and we can answer any questions that you may have about this service.
Common Issues Caused By Malocclusion
Poor smile alignment can be frustrating for more than just cosmetic reasons. You can find that you feel self-conscious about your appearance because of gaps and overlaps. What you should know is that those spacing troubles can also interfere with your bite function. As a result, you can become more vulnerable to problems with TMJ disorder. It can also be more difficult to keep teeth clean when they are crowded, as they can overlap in ways that make them more difficult to care for with your toothbrush and floss. By beginning treatment with these appliances, you can put all of these concerns behind you! If you already struggle with dental problems because of malocclusion, Dr. Browne can help you take on your oral health concerns as part of treatment.
Beginning Treatment With SureSmile Aligners
When you start to learn how SureSmile aligners can help you, it can be hard not to feel some excitement over your upcoming care. Before you receive your appliances, we use digital imaging technology to carefully measure your teeth and plan your care. At the point when you receive your appliances, you will start wearing them throughout each day. While they should remain in place to keep you on track with treatment, you can remove them whenever they might be in your way.
We Can Help You Finish Your Adjustment In Less Time!
Orthodontic work takes time, but completing treatment can certainly be rewarding. What you should know is that SureSmile can actually help you in a shorter time. The aligners we provide focus on moving your front teeth. Because of this, you start seeing the cosmetic benefits of straightening your smile sooner! You can complete work to improve your appearance in oral health in less time overall than other appliances require.
Talk To Dr. Browne About Starting Treatment With SureSmile Aligners
Dr. Browne is ready to meet with patients upset with their appearance because of malocclusion. For many, treatment with SureSmile can deliver exciting smile improvements in less time, and while avoiding any changes to the way you look. To find out more, please call our Prairie Village, KS office at 913-901-8585.