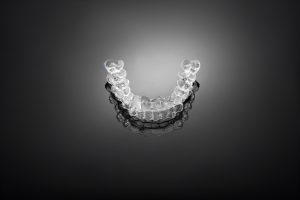 Is there a way to fix the gaps and overlaps between your teeth that make you self-conscious without wearing metal braces for an extended period of time? For adults who are concerned about their appearance in social and professional settings, it can be difficult to commit to wearing metal braces. However, they can still express interest in a procedure to straighten teeth and improve both their smile and oral health. At our Prairie Village, KS dentist's office, we can offer SureSmile Clear Aligners as an alternative to metal braces. Discreet treatment is just one advantage to choosing these appliances over other kinds of aligners. While SureSmile is not the only system of clear braces, it does stand out for its focus on straightening your front teeth, which can actually shorten your overall treatment time!
I Want To Straighten My Teeth But Do Not Want Visible Braces – What Can I Do?
Many people who are affected by malocclusion, meaning they have issues with the way their teeth are spaced and aligned, can benefit from treatment that does not involve metal braces. Instead of having a system of brackets and wires in place to move your teeth, we can recommend that you use a series of custom-made clear aligners to provide the results you want. As you learn more about SureSmile Clear Aligners, you can find that these appliances offer discretion as well as a shorter treatment time!
Information On SureSmile Clear Aligners
After closely measuring your teeth and evaluating your issues with their alignment, we can make sure you receive SureSmile aligners that are ready to safely move your teeth into better positions. You will receive a set of aligners, and will wear them in order to gradually change your smile. What separates SureSmile from other appliances is the way your appliances will focus on correcting the positions of your front teeth. Better alignment of these teeth can shorten your treatment time, and that means seeing the results you want in less time!
Straightening Your Teeth Can Help More Than Just Your Smile
There are more benefits to straightening your teeth than you might expect. The cosmetic benefits of doing this can be easy to see, but what you may not realize is how an adjustment changes your oral health. Better dental alignment produces a more even bite, something that will make TMJ problems less likely over time. Straighter teeth can also be easier to protect against cavities and gum disease.
Talk To Your Prairie Village, KS Dentist About SureSmile Aligners
At Dr. Browne's dental office, patients who want to learn about alternatives to metal braces can discover the benefits of using SureSmile Clear Aligners to fix the positions of their teeth. By making these changes, you can see exciting smile results as well as beneficial oral health changes! To find out more, call our Prairie Village, KS office at 913-901-8585.