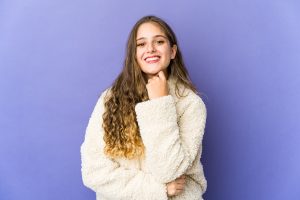 When you have unresolved issues with the alignment and spacing of your teeth, it can be hard to show off your most confident smile. While orthodontic work is effective at correcting problems with teeth that seem too far apart, too close together, or otherwise out of place, people sometimes  feel less than enthused about the idea of traditional metal braces. Fortunately, you can find out more about SureSmile Clear Aligners, which provide orthodontic work with discreet, removable appliances. At our Prairie Village, KS dental office, we can talk to you about the benefits of SureSmile treatment, the impact it can have on your smile, and what you can expect from your procedure. One thing to understand about SureSmile aligners is that their focus on shifting your front teeth can deliver visible improvements sooner, and help to shorten your overall treatment time!
Do You Feel Self-Conscious About Your Poor Smile Alignment?
Problems with poor smile alignment can cause teeth to look jagged or awkward because they do not have enough space to remain in the proper position. An issue with teeth spacing can also leave you with an embarrassing gap between your teeth. These issues lead to poor smile symmetry, which can make you unhappy with your overall appearance. When you look into treatment, you can learn about discreet alternatives to metal braces that let you correct these problems without wearing a conspicuous, fixed appliance for an extended period of time.
What You Gain From Treatment With SureSmile Aligners
By choosing SureSmile Clear Aligners over other appliances, you can enjoy a discreet treatment that actually takes less time than you expect. We will plan your procedure with digital imaging technology that lets us carefully study your smile and design custom appliances. These appliances will be provided to you at the start of your treatment – each one will take you a step closer to your improved smile. Thanks to their design, which focuses on the movement of your front teeth, you can actually finish with your overall corrective work in less time than other appliances require.
Orthodontic Work Can Do More Than Just Change Your Smile
While orthodontic treatment does lead to exciting cosmetic improvements for many people, it can do more than just help you show off a more confident smile. As you learn more about SureSmile treatment, you can find out how straighter teeth can lead to better bite function, which makes you less likely to experience TMJ problems. Better alignment can also help you maintain good oral hygiene and avoid problems with tooth decay and gum disease.
Talk To Your Prairie Village, KS Dentist About SureSmile Clear Aligners
At our Prairie Village, KS dental office, Dr. Browne is ready to meet with patients and discuss treatment with SureSmile Clear Aligners. If you would like to learn more about how these appliances can give you more confidence in your smile, we are ready to help! To find out more, contact Dr. Browne's Prairie Village dental practice by calling 913-901-8585.