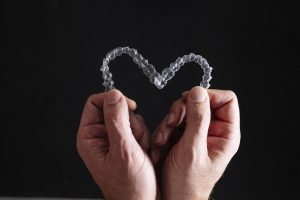 Many people want to do something about crooked, poorly aligned teeth, but they are reluctant to start orthodontic treatment because they worry about how they will look with metal braces stuck to their smile. At our Prairie Village, KS dentist's office, we can actually provide a discreet alternative to traditional braces. Instead of having metal braces put in place to fix gaps and overlaps, we will provide you with a series of SureSmile Clear Aligner appliances that will gradually correct your smile. These appliances are difficult to see, and they can be removed without difficulty. SureSmile aligners differ from other clear aligners because they actually prioritize the movement of your front teeth. What this does is produce smile improvements in less time and shorten your overall procedure!
Many People Prefer The Idea Of Discreet Aligners To Traditional Braces
Traditional metal braces can be needed if you have more significant problems with malocclusion. However, many people do not need them to see the results that they want from orthodontic treatment. If you have access to clear aligners instead of metal braces, you can make orthodontic work less noticeable. You can also have an easy time adjusting to your corrective work because you will be able to remove them whenever they are in your way.
What Sets SureSmile Aligners Apart From Other Aligners?
There are several clear aligner systems available to patients. What you gain by using SureSmile is a shorter treatment that produces visible improvements in less time than you might anticipate! The aligners you receive will be made in a way that emphasizes the movement of your front teeth. Because these teeth are the most visible when you smile and speak, you will be able to show off results earlier than you anticipate. This change can also help you finish work in a shorter time!
How Straighter Teeth Can Benefit You
As you learn more about SureSmile aligners, you can learn that your treatment is capable of more than just improving your smile. By fixing gaps and overlaps, you can address issues that affect the balance of your bite. People who cannot bite and chew evenly are more susceptible to problems with TMJ disorder as they put increasing stress on their jaw joints and muscles. Alignment flaws can also make it more difficult to protect yourself from plaque and tartar buildup, as some teeth may be harder to clean effectively.
Talk To Your Prairie Village, KS Dentist About SureSmile Aligners!
Dr. Browne is ready to help patients who wish to know more about SureSmile Clear Aligners! With this treatment option available to you, it is possible for you to make real smile improvements in less time than you expect! To find out more, please call our Prairie Village, KS office at 913-901-8585.