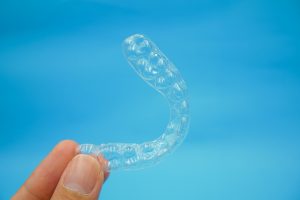 While malocclusion is a common problem, people experience it in different ways, and to different degrees. Because of this, orthodontic treatment is tailored to a patient's specific needs to produce their desired results. At our Prairie Village, KS dentist's office, we use digital technology to carefully measure teeth and determine what they need from their SureSmile Clear Aligners. By providing custom aligners, we can give you treatment that is focused on making the right adjustments to straighten your smile. In addition to being a discreet and patient-friendly approach to orthodontic work, treatment with SureSmile aligners is beneficial because it can give you the results you want in less time than other aligners.
Are You A Good Candidate For Treatment With SureSmile Aligners?
Many people bothered by poor smile alignment can qualify for treatment with SureSmile aligners. At an evaluation, your dentist can check on the spacing and overlap issues that currently affect your teeth to determine how these appliances can help you. SureSmile aligners focus on the movement of your front teeth, those teeth that are more visible whenever you smile and speak. People with noticeable smile flaws from malocclusion can benefit from this approach to care, which can help them improve their smile and take on the oral health issues that stem from this problem.
Designing Your Personalized Aligners
With the digital technology in our office, we can take detailed measurements of your bite and teeth to use in the making of your aligners. These reviews help to both design appliances that stay secure and determine how to approach the movement of teeth to give you your desired improvements. In addition to giving detailed information, digital technology can provide a more comfortable scanning experience than a physical bite mold, so the initial appointment you schedule can be more comfortable for you.
SureSmile Aligners Help Patients Complete Treatment In Less Time
As you learn more about SureSmile Clear Aligners, you can find that they separate themselves from other appliances by producing results in less time! The aligners that you receive from Dr. Browne will be made to prioritize the movement of your front teeth. By making this movement the priority, your aligners deliver cosmetic improvements faster, and they also help you shorten your overall treatment period.
Talk To Your Prairie Village, KS Dentist About SureSmile Aligners
Dr. Browne can meet with you and discuss the benefits of straightening your teeth with SureSmile Clear Aligners. Our practice relies on digital technology to take the measurements needed to produce custom aligners. In addition to providing a more comfortable approach to measuring your teeth, this technology can deliver detailed information to help us plan your personalized treatment. To find out more, please call our Prairie Village, KS office at 913-901-8585.