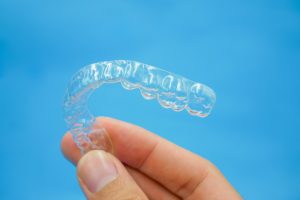 Even if the final month of the year has arrived, there is still time to start important projects before the next year begins. If you want an early start on a resolution to improve your smile, or if you just want to begin work that will improve your appearance and oral health, make an appointment at our Prairie Village, KS dentist's office to discuss orthodontic treatment with SureSmile Clear Aligners. As you learn about these clear aligners, and what makes them different from other treatment options, you can feel excited to start work to fix your problems with malocclusion. One benefit to SureSmile aligners is their shorter treatment times, which means you can enjoy an early start to orthodontic work and see an early conclusion to your adjustment!
Are You Someone Who Could Benefit From Orthodontic Treatment?
Orthodontic treatment helps those with gaps or overlaps between teeth, and any other troubles with malocclusion, show off a more attractive and uniform smile! If you feel that the positioning of your teeth has drawn unwanted attention, or that your smile is asymmetrical, corrective work can help! What you might not realize is how this treatment can lead to oral health improvements as well as cosmetic changes. Better alignment can mean better bite function, which can reduce your risk for TMJ problems and help you evenly apply pressure when you bite and chew.
Using Clear Aligners To Improve Your Smile
Instead of wearing traditional metal braces for an extended period of time, you can find that you are well served by clear aligners! A series of aligners made from clear plastic can help you fix problems discreetly, which means your adjustment can avoid unwanted attention from others. You can also be happy to have removable appliances, as this makes treatment less intrusive in your daily life.
SureSmile Clear Aligners Can Deliver Results In Less Time Than You Expect!
Your SureSmile Clear Aligners will be designed to fit securely and make the right corrections to where your teeth are positioned. Their design actually sets them apart from similar appliances, as they can focus on the movement of your front teeth and produce results in a shorter period of time! You can begin to see results after a short span of time, and you can be done with your correction in as little as under one year!
Talk To Your Prairie Village, KS Dentist About Treatment With SureSmile Aligners!
At our dentist's office in Prairie Village, KS, Dr. Browne is ready to meet with patients and provide helpful information about SureSmile Clear Aligners. If treatment with these appliances is right for you, we can begin corrective work and improve your appearance and oral health! To find out more about our practice and services, please call our Prairie Village, KS office at 913-901-8585.