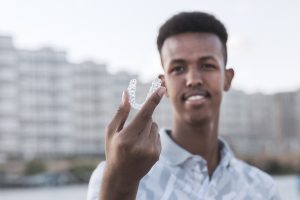 Even if you intend to minimize your holiday plans this year, you may worry that orthodontic treatment will interfere with the plans that you do make. Will an orthodontic appliance stop you from enjoying special meals that you have been looking forward to? Will aligners affect the way you look in the photos that you take this year? The choice to have your smile adjusted with clear braces can spare you some of the awkward issues people experience in the course of orthodontic treatment. Our Prairie Village, KS dentist's office actually offers treatment with SureSmile Clear Aligners. These appliances are similar to other clear braces in the sense that they are difficult to see and easy to remove. What sets SureSmile aligners apart is their design, which focuses on the movement of your front teeth to produce faster results, and conclude your overall correction in less time than you might expect!
Should I Put Off Orthodontic Work Until After The Holidays Pass?
If you are worried that your orthodontic treatment will intrude on your holiday experience, you may be tempted to put off your corrective work. By making this choice, you spend more time with a smile that is uneven and less attractive than it could be. Issues with gaps and overlaps can also create problems for your bite alignment as well as your ability to thoroughly clean your teeth. In other words, putting off treatment extends the time you have to spend with smile flaws that are affecting your appearance and dental well-being. Because SureSmile Clear Aligners can make the treatment experience easier and shorter, you can have an easier time committing to the start of treatment during the holidays.
Clear Aligners Make Orthodontic Treatment Less Intrusive
By wearing clear aligners instead of metal braces, you gain the ability to fix your smile with appliances that are easy to remove. They are also hard to observe, which means you will not have to worry about them interfering with your smile. After you receive your set of clear aligners, you will begin wearing them each day in order to gradually move your teeth into their proper positions. Keeping them in place throughout the day is important, but you can take them out when you eat, or when you are about to clean your teeth.
Make Sure You Wear Your Aligners Throughout Each Day
While SureSmile Clear Aligners are capable of shortening your overall treatment time, you can interfere with your adjustment schedule by spending too much time without them. Because they are made from a clear material and easy to remove before eating, they should not intrude on your life in ways that make leaving them behind necessary. You can wear them for the full day and simply remove them when you want to eat something. Because they are hard to notice, you do not have to worry that they will affect you cosmetically if you are at an outing or plan to take pictures.
Talk To Dr. Browne About Starting A Treatment With SureSmile Clear Aligners
Dr. Browne is ready to help patients who are interested in SureSmile Clear Aligners. If you want to know how these aligners can help you, or if you have questions about our other services, call our Prairie Village, KS dental office at 913-901-8585.