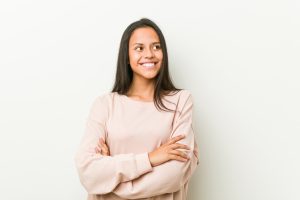 Orthodontic work does more than just help people feel better about the way they look. Straighter teeth will make you less likely to deal with oral health issues in the future, and corrective work can lead to a better and more comfortable bite function. With that said, if your teeth are not properly aligned, it can be uncomfortable for you to show off your smile, making orthodontic treatment appealing to many with badly spaced teeth. Our Prairie Village, KS dentist's office can actually help you by providing a discreet treatment experience in the form of SureSmile Clear Aligners. In addition to making your adjustment easier to fit into your daily life, SureSmile aligners can also offer the benefit of a shorter treatment period!
Are You Embarrassed By Badly Spaced Teeth? SureSmile Can Help!
When we evaluate others' smiles, we often focus on the absence of features. Being without gaps or awkward overlaps between teeth can make a smile more attractive. Another feature that often appeals to people is symmetry, something that crooked teeth can lack. Fortunately, these are issues that you can deal with by having your teeth straightened with SureSmile aligners! By beginning your SureSmile treatment, you can do something about gaps, overlaps, and other issues that make your smile seem awkward or asymmetrical.
Starting Treatment With Clear Aligners
Your adjustment will begin after your clear aligners are designed, crafted, and provided to you. Before this occurs, Dr. Browne uses advanced digital imaging technology to closely study teeth and work out the details of your correction. You will wear different aligners over the period of your correction, with each one bringing you closer to your improved smile. Your appliances are made to be difficult to observe, so you can wear them with confidence. They are also easy to remove, so they should not be in your way whenever you eat or clean your teeth!
How Does SureSmile Treatment Lead To Shorter Adjustment Periods?
As you explore your different options for orthodontic work, you can look at what makes different treatment solutions stand out. One reason to ask questions about SureSmile Clear Aligners is to learn how they can give you the smile you want in less time than other orthodontic appliances. These aligners will focus on the movement of your front teeth. By doing this, they encourage cosmetic improvements in less time, and help you end treatment sooner!
Talk To Dr. Browne About Treatment With SureSmile Aligners!
Dr. Browne is happy to talk with patients who want to know what SureSmile Clear Aligners can do for them. If you have questions about these appliances, or if you would like to learn about the other services we currently provide, please call our Prairie Village, KS dentist's office at 913-901-8585.