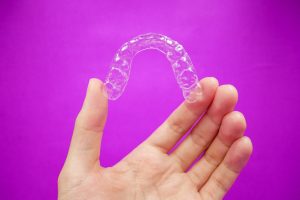 Why do patients decide to start treatment with clear aligners? An interest in treatment is often sparked by a concern about malocclusion's effect on a person's appearance. Problems with poor spacing and alignment will make it difficult for people to feel fully confident in the way they look, but malocclusion is more than just a concern for the way someone looks. These flaws can also affect your oral health by creating problems for your bite as well as your ability to brush and floss effectively. When you visit our Prairie Village, KS dentist's office, you can learn how SureSmile Clear Aligners are able to help you improve your smile and oral health. With your appliances, you will be able to move teeth into better positions without being dependent on metal braces. Because your aligners are made to reduce treatment time, they can give you the results you want in less time than other treatment plans require!
Why Patients Look Into Orthodontic Treatment
There are cosmetic as well as oral health benefits to fixing poor smile alignment. If you have a smile gap that bothers you, or if there are noticeable issues with teeth that overlap, it can make you unhappy with your appearance, so much so that you try to hide your smile! While SureSmile Clear Aligners benefit those who want to feel more attractive when they smile, an adjustment can also help improve your bite function as well as your oral health.
Am I A Good Candidate For Treatment With SureSmile Aligners?
At an evaluation, your dentist can determine if your troubles with malocclusion can be effectively addressed with SureSmile aligners. For many people affected by spacing problems, these aligners will provide the required improvements. As you wear each aligner, you will see your teeth gradually change positions in ways that improve your overall smile. The reason SureSmile is able to produce results faster is that your appliances will be made in a way that focuses on moving your front teeth.
Things You Can Look Forward To From SureSmile Treatment
After orthodontic treatment is complete, you can start smiling with confidence! Straighter teeth offer better smile symmetry, and you no longer have to worry about a gap or overlap drawing too much attention. You can also have an easier time biting and chewing without putting stress on your jaw, as your bite will be better aligned.
Talk To Your Prairie Village, KS Dentist About SureSmile Clear Aligners
At our dental practice, patients who want to learn about the benefits of orthodontic work can meet with Dr. Browne and discuss SureSmile Clear Aligners. To find out more about these appliances, and to find out how we can help you deal with any other oral health concerns, call our Prairie Village, KS office at 913-901-8585.