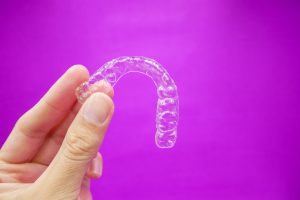 When you start to learn about the benefits of orthodontic work, you can find that a procedure can do more than just change the way you look when you smile. Patients can have orthodontic treatment recommended as a way of improving their bite alignment, or as a means to fix overlaps that affect their ability to prevent cavities and gum disease. With that said, it can be hard not to feel excited for the cosmetic benefits an adjustment provides. Our Prairie Village, KS dentist's office uses SureSmile Clear Aligners to help those who are looking to straighten their teeth. These appliances let you fix flaws with gaps and overlaps discreetly, and they also let you shorten the time it takes to complete an adjustment!
Do You Feel Self-Conscious About The Alignment Of Your Smile?
People with poor smile alignment often feel a degree of self-consciousness over the way they look. Gaps and overlaps can affect the symmetry of your smile, and they can also cause flaws that attract unwanted attention. Orthodontic work can help deal with flaws that are hard to address with cosmetic dentistry alone. Through an adjustment, you can feel more confident in your smile while also addressing oral health issues!
Discuss SureSmile Clear Aligners With Your Dentist
When you start looking into orthodontic treatment, you can find that SureSmile aligners offer benefits that other treatment options are not able to match. With SureSmile aligners, you can gradually move teeth into better positions without drawing unwanted attention to your adjustment. The appliances provided to you will be made from a clear material that is difficult to see. You can be happy to know that you have the freedom to remove these appliances when they are in your way, which means your adjustment will not create difficulties when you eat or clean your teeth.
SureSmile Aligners Can Give You Results In Less Time!
As you learn about orthodontic treatment with SureSmile, you can find that these appliances have a design feature that produces faster results for patients! Your aligners will be designed in a way that prioritizes the movement of your front teeth. Making the movement of these teeth a priority means you start showing off a more attractive smile sooner, and you can be done with your adjustment in less time!
Talk To Your Prairie Village, KS Dentist About SureSmile Clear Aligners
Through the use of SureSmile Clear Aligners, Dr. Browne can help you show off a more attractive smile and address oral health issues linked to misaligned teeth. These appliances are actually designed to make the movement of your front teeth the priority, which means you begin seeing results in less time and complete treatment faster than you would with other aligners! To find out more, call our Prairie Village, KS office at 913-901-8585.