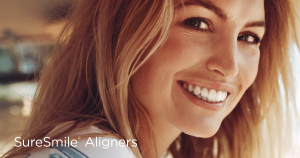 When you use clear braces to correct smile gaps and overlaps, you can enjoy a discreet means of fixing problems that affect the way you look. Through the use of SureSmile Clear Aligners, you can make positive adjustments to your appearance gradually, with each aligner in a custom set bringing you closer to your ideal smile. So how do patients who use SureSmile Clear Aligners benefit over those who choose other appliances? What makes this approach to orthodontic work the one that should appeal to you? With SureSmile aligners, you can actually see the results you want in less time. These appliances have been made to focus on the movement of your front teeth, which leads to faster smile improvements!
Can You Shorten Your Treatment Time By Using SureSmile Aligners?
With SureSmile Clear Aligners, patients who qualify can learn how their smile adjustment can be completed in as little as a year. Unlike other appliances, SureSmile braces have been made to focus on shifting front teeth into place. With this as the priority, it becomes possible to see positive results in a shorter period of time. You can start to see improvements to the way you look in as little as three to six months, and you can have the adjustment finished in a shorter time than you need for other appliances.
What To Expect When You Begin Adjusting Your Smile
With clear aligners for treatment, it becomes possible to fix gaps, overlaps, and other alignment flaws without the use of conspicuous metal braces. You can find that because your aligners are easy to remove and difficult to see, you can quickly adjust to daily life wearing them. Over time, you will move from one appliance to the next as you gradually move your teeth into their ideal positions. Having removable appliances removes concerns about oral hygiene, as you can simply take them out when they are in your way!
Orthodontic Work Offers More Than Just Cosmetic Improvements
As you start to explore the benefits of orthodontic work, you should understand that an adjustment with clear aligners is able to do more than just deliver cosmetic changes. Straightening your teeth can make oral hygiene easier, as you can have less difficulty cleaning teeth that overlap. You can also have less difficulty with bite problems, which reduces your risk for TMJ disorder and teeth grinding.
Talk To Dr. Browne About Using SureSmile Clear Aligners
If you are ready to do something about embarrassing or frustrating smile alignment issues, Dr. Browne can help! With SureSmile Clear Aligners, we are able to straighten teeth that look awkward or uneven because of misalignment. To learn more, call our Prairie Village, KS dental office at 913-901-8585.