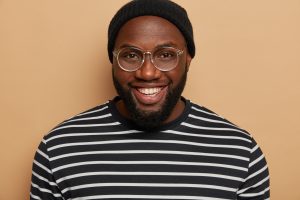 When teeth overlap, they can appear jagged, off-balance, and less attractive. With that said, this can be more than just a concern for your smile. Teeth that overlap in inappropriate ways can be harder to clean effectively, and they can affect the way that a person applies force when they bite and chew food. By fixing problems with overlapping teeth, you can see cosmetic as well as oral health benefits! Our Prairie Village, KS dentist's office can actually help you see the results you want with removable clear appliances. Like other clear aligners, SureSmile Clear Aligners can offer a discreet and convenient way to undergo orthodontic treatment. What makes them stand apart is their focus on shifting teeth at the front of your smile, as it can produce the results you want in less time!
Overlapping Teeth Can Affect Your Appearance And Dental Health
If your teeth overlap, it may be difficult for you to fully clean their surfaces each day. As a result, bacteria and food debris can be more easily trapped between them, resulting in problems with tartar formation. Over time, you can be more susceptible to cavities and gum disease because of that buildup. You can also have a difficult time biting and chewing in a way that feels natural. People who ignore problems with malocclusion, or poor dental alignment, are made more vulnerable to painful TMJ problems when they are unable to move their jaw in a way that feels natural.
Relying On Clear Aligners To Fix Issues With Malocclusion
With clear aligners, you can see exciting results from orthodontic work without the frustration that can sometimes accompany treatment with traditional metal braces. Are you bothered by the idea of an appliance that is permanently affixed to your teeth? Clear aligners can be removed at any time, so you will not have to worry about their effect on your ability to clean your teeth and eat. You can also be relieved to see just how difficult it is to notice clear appliances when they are worn. This can allow you to remain confident with your smile as you work on fixing gaps or overlaps!
The Advantage Gained By Using SureSmile Clear Aligners For Treatment
SureSmile Clear Aligners offer a benefit that other appliances are not able to provide. When these appliances are designed, they are constructed so that they focus on the movement of your front teeth. Because of this, they can produce results for you in a shorter time than other aligners require! While clear appliances can make orthodontic work easier, it is still understandably exciting to see your results after a shorter period!
Talk To Dr. Browne About Fixing Your Crooked Smile With SureSmile Aligners!
At our Prairie Village, KS dentist's office, patients who are bothered by their appearance because of crooked teeth – or worried about the effect malocclusion might have on their oral health – can talk with us about SureSmile Clear Aligners. To find out more about these appliances, please call Dr. Browne's practice in Prairie Village at 913-901-8585.