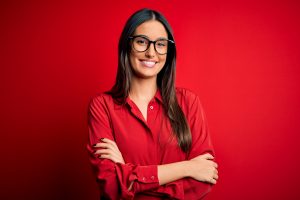 A gap between teeth can be an especially frustrating problem, as it can seem to draw an undeserved amount of attention while also disrupting the symmetry of your smile. Many people will find that there is no way to fix a gap without arranging orthodontic treatment. If you assume that this means you must wear metal braces, you may be hesitant to have these permanent aligners put in position. What you should know is that alternative treatment options do exist. At our Prairie Village, KS dentist's office, we are able to provide patients with SureSmile Clear Aligners. SureSmile aligners are difficult to see while being easy to remove – in other words, they offer a refreshingly patient-friendly approach to care.
Choosing Clear Aligners To Fix Problems With Your Smile
If you want to do something about a smile gap, overlapping teeth, or any other issue with malocclusion, you may be interested in learning about the benefits to using clear aligners instead of metal braces. With clear aligners, you will be able to fix smile flaws without wearing a conspicuous appliance. You will also be able to do something about poor alignment without resorting to something that must remain in place for the duration of your treatment. You can still look forward to exciting smile changes, and you can count on those changes to last.
What To Expect When You Select SureSmile Clear Aligners For Treatment
When it comes to orthodontic treatment options, you should understand that SureSmile Clear Aligners are able to offer an advantage over other appliances. Your SureSmile aligners are made to focus on the movement of your front teeth. By making these teeth the priority in your adjustment, the procedure time can be shortened. Many people are able to see the results they want in as little as one year, or less.
Straightening Your Smile Can Have Surprising Benefits
Once your smile is straightened, you can show it off without feeling self-conscious about a gap. What you can also look forward to are some exciting oral health benefits! People who struggle with jaw pain or sensitivity may have these issues because they are not able to bite down in a way that feels natural. Fixing poor alignment helps with this, as it can make the application and release of bite pressure easier. You can also have an easier time protecting your teeth and gums when your teeth are straight, as you can fix problems with overlapping teeth that are harder to clean.
Our Prairie Village, KS Dentist's Office Offers Treatment With SureSmile Aligners
At our Prairie Village, KS dentist's office, Dr. Browne can talk to patients about fixing poor dental alignment with clear aligners! To find out more about these appliances, and how they can help you, please call our Prairie Village practice at 913-901-8585.