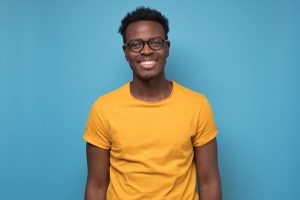 When people start to consider the advantages to finally having orthodontic work done, they may focus on what treatment can do for the way that they look. What you might also consider is the benefit to your oral health, as fixing problems with overlapping teeth can make it easier to fight tartar buildup. Spaces that overlap can be difficult for you to clean, so it can be easier for bacteria and food debris to become trapped, affecting your risk for tooth decay and gum disease. Our Prairie Village, KS dentist's office has experience taking care of these problems, but we are also prepared to help you deal with your malocclusion! Because we use SureSmile Clear Aligners to care for our patients, we can offer a discreet adjustment experience that takes less time than other appliances.
Do You Have Teeth That Overlap?
When a person's teeth overlap, it can be difficult for them to clean these areas. As a result, it may be more difficult for them to completely prevent oral health issues from occurring. It is also possible for you to have embarrassing tartar buildup that leads to visible discoloration. With orthodontic treatment, it is possible to space out crowded teeth so that you no longer have to feel frustrated by this matter!
Using Clear Aligners To Improve Your Dental Alignment
What are the benefits to choosing clear aligners over traditional braces? For many people, clear appliances can be effective at straightening our teeth that overlap, or those that are too far apart. You can feel more comfortable wearing clear aligners because they are not going to draw unwanted attention, and because you can remove them at times when they might be in your way. SureSmile Clear Aligners have an additional benefit that other clear appliances can lack – these aligners can help you shorten your treatment time, and see results sooner!
SureSmile Aligners Can Complete Work In Less Time
One thing to understand about SureSmile Clear Aligners is that they are designed to make orthodontic work easier as well as shorter. Your appliances will be carefully designed using digital imaging technology to provide a custom fit. Care is also taken to design them so they prioritize the movement of front teeth. This effectively shortens how long it will take for you to see results, and to have your adjustment finished!
Dr. Browne Has Helped Many Prairie Village Community Members Address Poor Smile Alignment
What can you gain from talking about orthodontic work with Dr. Browne? Our practice has helped many patients fix frustrating smile problems by offering SureSmile Clear Aligners. These appliances move teeth discreetly, and they can take less time than other orthodontic appliances. To find out more about our services, call our Prairie Village, KS dentist's office at 913-901-8585.