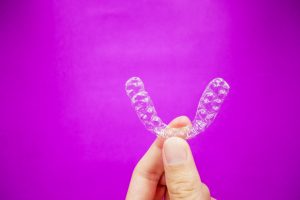 At first glance, it may seem as though everyone has the same goal when they pursue orthodontic treatment. By working to fix smile gaps and overlaps, you can show off a symmetrical, properly aligned smile. Of course, your current issues with malocclusion are different from someone else's, which is why your dentist should provide a personalized treatment experience. When our Prairie Village, KS dentist's office provides orthodontic work with SureSmile Clear Aligners, we rely on careful digital scans of your oral structures to plan your treatment. The careful measurements that we receive will help us craft aligners that fit properly and bring your teeth into their proper alignment. Because SureSmile aligners are made to produce shorter treatment times, you can be happy to know that your appliances can make your adjustment process more convenient!
Planning A Procedure To Straighten Your Teeth
The shape, size, and relative positions of your teeth can affect your needs when it comes to your orthodontic procedure. Because of this, your dentist will take care to plan your treatment, and to take measurements to ensure you have aligners that fit comfortably. After examining your teeth and your bite with digital tools, we can collect the data required to give you a personalized orthodontic treatment. The SureSmile appliances that you receive will be designed to adjust your smile into proper position. To shorten your treatment time, these appliances will prioritize the movement of your front teeth to deliver smile improvements more quickly.
What Makes SureSmile Different From Other Orthodontic Appliances?
While other clear aligners can deliver a discreet orthodontic treatment, SureSmile Clear Aligners offer the convenience of clear appliances as well as a shortened treatment time. Many patients appreciate the benefit of a shorter adjustment period. Even if the process of fixing your misaligned teeth is made easier by your appliances, you can be excited to show off your improved appearance. You can also enjoy the oral health benefits of orthodontic work sooner.
Orthodontic Work Offers More Than Just Cosmetic Benefits
By fixing teeth that are too far apart, that overlap awkwardly with neighbors, or otherwise stand out, you can flash a lovelier, more symmetrical smile. The process of fixing malocclusion can also help you by improving your bite, which can reduce tension on your jaw joints and muscles. For people with teeth that are too close, an adjustment can make cavity prevention easier, as they no longer have to worry about portions of teeth that are difficult to clean.
Discuss Orthodontic Treatment With Your Prairie Village, KS Dentist
Dr. Browne has helped many patients fix frustrating smile alignment problems with custom SureSmile Clear Aligners. These appliances can help you feel more confident in your appearance while also improving your oral health and bite function. To find out more, please call our Prairie Village, KS dentist's office at 913-901-8585.