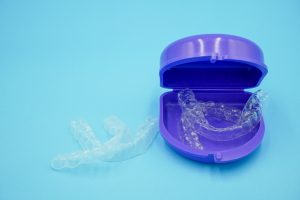 When you commit to straightening your teeth, you have to commit to wearing conspicuous metal braces for an extended time period…right? With modern alternatives to metal braces, patients have found that the process of fixing smile gaps and overlaps can be easier than they believed possible. Our Prairie Village, KS dentist's office offers patients orthodontic treatment with SureSmile Clear Aligners. The key to understanding what makes SureSmile aligners attractive is knowing what sets them apart from metal braces and other clear braces. SureSmile aligners are designed to focus on moving your front teeth, so you can start seeing smile improvements sooner. This change helps us provide a procedure that is discreet as well as surprisingly short – people can see results in just three to six months of wearing their aligners!
Can You Straighten Your Teeth Without Wearing Metal Braces?
While metal braces are sometimes required, many people can qualify for treatment with clear aligners as an alternative. Those with mild to moderate cases of misalignment can undergo a treatment that depends on a series of appliances that are difficult to see when worn. Over time, you can gradually move your teeth into better positions without having to commit to a fixed appliance.
Using SureSmile Clear Aligners To Improve Your Smile
When you first start your treatment with SureSmile Clear Aligners, you will receive a series of aligners that will be worn over the course of your adjustment. You can make the transition from one to the next on your own, as these aligners can be removed by you without difficulty. In order to stay on track with your adjustment, make sure you wear your appliances throughout the day. Their clear design can make this an easy goal to achieve – because they are difficult to see, you can have few concerns about wearing them even in important social or professional settings.
SureSmile Aligners Can Lead To Shorter Treatment Times
SureSmile Clear Aligners have been designed to shorten treatment times for people looking to improve their appearance. Your aligners are designed with the goal of prioritizing the shifting of your front teeth in position. As a result, you have less time to wait before you see corrections that address conspicuous gaps and overlaps that have hurt your confidence in the way you look. You can also look forward to having results in less time!
Talk To Your Prairie Village, KS Dentist About SureSmile Clear Aligners
At our Prairie Village, KS dentist's office, patients who are bothered by their appearance because of poor dental alignment can be interested to learn about SureSmile Clear Aligners. These appliances are designed to make orthodontic treatment shorter and more discreet than you might expect, and they can deliver exciting results! To learn more, call our Prairie Village, KS dentist's office today at 913-901-8585.