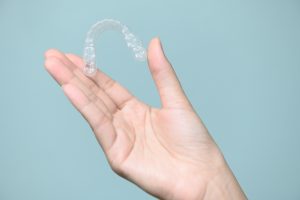 When it comes to orthodontic work, what makes one appliance more effective than any other? When you discuss treatment to address your dental alignment flaws, you can learn that SureSmile Clear Aligners make it possible for you to quickly and discreetly address your concerns! Like other clear aligners, SureSmile appliances are difficult for others to observe, which can make them ideal if you are worried about drawing unwanted attention to your smile during your correction. With that said, SureSmile provides another exciting benefit – you may be able to cut down your treatment time by choosing these aligners over other options. To find out more, you can make an appointment with your Prairie Village, KS dentist to discuss the advantages to using SureSmile Clear Aligners.
SureSmile Clear Aligners Can Lead To A Better, Straighter Smile
When you start treatment with SureSmile, you can look forward to ultimately showing off a better, straighter smile over time. These appliances gradually and safely move teeth into better positions, with the goal of providing long-term improvements. Straightening your teeth means finally doing something about an embarrassing smile gap, or an issue with teeth that overlap. Your overall appearance can be more symmetrical after an adjustment, which can lead to an important confidence boost.
Choosing SureSmile Aligners Can Shorten Your Treatment Time
Like other clear appliances, SureSmile Clear Aligners are able to help patients fix orthodontic troubles while avoiding unwanted attention. When you wear your aligners, you can feel confident that others are not able to notice their presence. SureSmile provides an additional benefit that many people find appealing – these appliances are designed to prioritize the movement of front teeth, so that you can see results in less time. Because of this, you can find yourself finished with treatment in a shorter period than you expect. Some patients see results in just three to six months!
Reasons To Make Orthodontic Work A Priority
One reason to make orthodontic work a priority is, simply put, you can enjoy a big boost to your confidence when you smile. With that said, there is more than just a more attractive smile to look forward to when you straighten your teeth. You can actually improve your bite function by fixing frustrating flaws, and lower your risk for developing TMJ problems over time. You can also see to it that teeth that have been harder to clean due to overlaps become easier to take care of on a daily basis.
Talk To Dr. Browne About Straightening Your Smile With SureSmile Clear Aligners
At our Prairie Village, KS dentist's office, patients can be excited to learn about the advantages that SureSmile Clear Aligners offer.  To learn more, or to schedule a visit with Dr. Browne, contact our office today at (913) 901-8585.