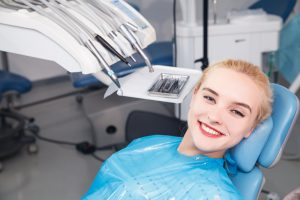 If you are growing concerned about your child's dental alignment, or if you have issues with the alignment of your teeth, you should make time to explore the benefits of orthodontic treatment. While many people still assume that orthodontic treatment has to involve metal braces, there are modern appliances that can adjust a person's smile discreetly. Our Prairie Village, KS dental practice offers adjustments with MTM Clear Aligners. These appliances are hard to see, and easy to remove, making a person's experience with care more pleasant. An added benefit to orthodontic work with these aligners is their ability to shorten your treatment time. These aligners are specially designed so that your front teeth are are the priority for movement. The result of this focus on your front teeth is that you can see results in as little as three to six months!
Should You Consider Orthodontic Treatment?
It is common for people to feel that poor dental alignment is preventing them from showing off their best smile. Gaps and overlaps can make your smile appear uneven or unhealthy, which can lead to feelings of discomfort. By straightening your teeth, you can make your smile appear more attractive, and you can eliminate flaws that may be attracting undue attention. Thanks to modern appliances like MTM aligners, the process of correcting gaps and overlaps can be more pleasant than you think possible.
What Makes MTM Clear Aligners Different From Other Orthodontic Appliances?
You can be understandably curious about what makes MTM Clear Aligners different from other orthodontic treatment options. One reason to be excited by MTM aligners is that they can make your treatment experience less conspicuous. Instead of wearing bracket and wire braces for an extended period of time, you will rely on a sequence of clear appliances that you can remove on your own. While MTM Clear Aligners are one of several appliances that make orthodontic work discreet, MTM aligners offer an exciting advantage over similar aligners. Your MTM aligners are made to focus their corrective efforts on your front teeth, which are most prominent when you smile. This difference makes it possible for your treatment to be over in a relatively short period of time, so you can see results sooner.
Straightening Your Teeth Can Lead To Oral Health Improvements
It is important to note that orthodontic work does more than just improve how a person looks. Correcting flaws with smile gaps and overlaps can actually improve your bite function, and reduce the pressure that may be placed on your jaw currently. Straightening your smile can also ensure that your teeth are absorbing biting and chewing pressures evenly.
Talk To Dr. Browne About Treatment With MTM Clear Aligners
At our Prairie Village, KS dental practice, Dr. Browne can talk to patients about the benefits of using MTM Clear Aligners for their orthodontic needs! To learn more or to schedule a visit with Dr. Browne, contact our office today at (913) 901-8585.