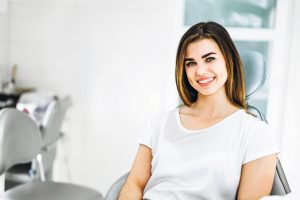 You may be tired of the effect poor dental alignment is having on your smile, but are you ready to address the problem? When it comes to orthodontic work, patients sometimes believe that their only option for correcting problems with gaps and overlaps will be metal braces. For some patients with more serious alignment concerns, metal braces are necessary. With that said, many people are able to qualify for discreet, removable aligners that allow them to make smile improvements without any conspicuous appliances. Our Prairie Village, KS dental practice can provide you with MTM Clear Aligners. These appliances make orthodontic work discreet, and they boast a special design that can actually speed up your adjustment!
Are You Tired Of Feeling Embarrassed By Crooked Teeth?
Simply put, it can be hard for some people to really love their smile if they are embarrassed by poor dental alignment. You can feel self-conscious because of a gap between poorly spaced teeth, or worry about the way overlapping teeth create a "crowding" effect that is less than ideal for your appearance. You can find that these problems are fixable without intrusive metal braces when you learn more about clear aligners. Thanks to these modern alternatives to metal braces, people have been able to correct their smile issues, and feel a huge confidence boost after their correction!
Learn How MTM Aligners Can Discreetly Improve Your Smile
You can wear your MTM Clear Aligners without drawing unwanted attention in social settings, or in a professional environment. Their clear design makes them hard for people to see, so you can feel at ease while wearing them. They work because they rely on a series of different aligners, each one designed to bring your teeth closer to their best positioning. You can remove them on your own – one big benefit to clear aligners is that they will never be in your way while you eat, or clean your teeth! MTM Clear Aligners offer an advantage that other, similar appliances are not able to provide – because they focus on moving your front teeth, you can have your results in less time than you would when using a different appliance!
Fixing Alignment Flaws Can Be Good For Your Appearance, And Your Oral Health!
Did you know that the alignment of your teeth can influence your risk for tooth decay? People who have teeth that overlap sometimes have difficulty effectively removing oral bacteria that gather in those cramped spaces. This can result in more oral health problems, and greater frustration. You can also unintentionally overwork certain teeth, or aggravate your jaw joints, due to bite problems that stem from your poor alignment.
Talk To Dr. Browne About MTM Aligners, And Learn What They Can Do For Your Smile!
MTM Clear Aligners can lead to truly impressive smile corrections! Prairie Village, KS residents can talk to Dr. Browne about the benefits of these appliances by making an appointment. To schedule your visit,  contact our office today at (913) 901-8585.