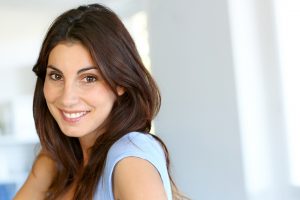 A smile gap is a problem that can cause an individual to feel self-conscious, even if they have no other issues with their teeth. So what would stop someone who feels embarrassed by a smile gap from seeking treatment? People sometimes fail to realize how many options they have for modern orthodontic work, and assume that the only way to address the matter is with metal braces. However, you may be able to close the gap, and correct any other alignment flaws that affect your appearance, with MTM Clear Aligners. At our Prairie Village, KS dental practice, we can answer your questions about MTM aligners, and help you recognize the benefits to correcting a misaligned smile!
Orthodontic Problems Make Many People Self-Conscious
Depending on its visibility and size, a smile gap can cause a person to feel real anxiety about their appearance. If this problem affects you, then it may leave you feeling as though you have to hide your smile, or even try to keep your teeth out of clear view when speaking and laughing. One of the many benefits to having access to MTM Clear Aligners is that you can finally correct a problem with poorly spaced teeth while avoiding metal braces!
Starting Your Adjustment With Your MTM Clear Aligners
When you use MTM aligners to improve your smile, you will receive a series of clear appliances that fit over your teeth. Each one is meant to help you gradually move your teeth. Your dentist can advise you about how long it will take for you to move from one appliance to next. Ideally, you should keep these aligners in for as long as possible. Because they are hard to see, you should not have to worry about how they might affect your appearance. You can be happy to know that they are easily removed by you, so they will not be a problem for you when you need to eat, or clean your teeth.
MTM Aligners Can Help You Complete Your Adjustment Sooner!
One reason people want to have their teeth straightened with MTM aligners instead of other appliances is that they can actually lead to results in less time. Your appliances will make correcting your front teeth a priority, so you can start seeing smile improvements sooner. As little as three to six months is all some individuals need in order to complete their adjustment!
Talk To Dr. Browne About Using MTM Clear Aligners
At our Prairie Village, KS dental office, patients who want to do something about their crooked, poorly spaced, or otherwise misaligned teeth can learn about MTM Clear Aligners! These appliances allow you to move your teeth discreetly, and in less time than you might anticipate. To learn more, or to set up a visit with Dr. Browne, contact our office today at (913) 901-8585.