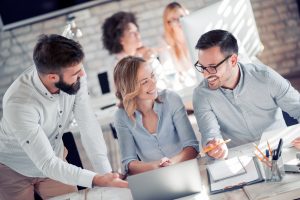 When you think about undergoing orthodontic work, it can be hard to avoid thinking about the way an adjustment might affect your life. After all, unlike many other types of dental work, orthodontic work can take an extended period of time to complete. If you rely on traditional metal braces, it can also require you to wear a conspicuous appliance, which can make you particularly uncomfortable in professional and social environments. To find out about an exciting alternative to traditional braces, talk to your Prairie Village, KS dentist about MTM Clear Aligners. You can find out how these clear aligners discreetly move teeth, and how MTM aligners can lead to results in an unexpectedly short period of time!
Are You Worried About The Effect Of Orthodontic Work On Your Appearance?
It is understandable to worry about your appearance in certain situations. If you want to project a professional image at work, it can be hard to imagine life with metal braces. You can also find it uncomfortable to navigate your social life with these conspicuous appliances in place. Clear aligners have been effective at helping people who want to discreetly move their teeth into proper placement.
Incorporating MTM Clear Aligners Into Your Everyday Life
When you understand how MTM Clear Aligners work – and why it can be easy to fit them into your daily life – you can be ready to start straightening your smile. You can wear your aligners without fearing that they overwhelm your appearance, or distract people. Because they are difficult to see, you can have them on in situations where your appearance can be particularly important to you. You can quickly discover just how easy it is to go through your daily life with MTM aligners when you realize how easy they are to remove – the ability to take them out allows you to eat, brush your teeth, and floss without their interference.
What Other Benefits Do MTM Clear Aligners Offer?
While discretion is a big benefit of using MTM Clear Aligners, it is not the only one. These aligners are specially made to shorten how long it takes to improve your smile. Using them instead of a different appliance can ensure you have your improved smile in less time – people who use MTM aligners can be done with their adjustment in three to six months!
Talk To Dr. Browne About Using MTM Clear Aligners
Dr. Browne is ready to help people in and around Prairie Village, KS make big smile corrections with MTM Clear Aligners! Our practice can talk to you about the benefits to using these modern orthodontic appliances, and about the advantages of correcting crooked teeth. To learn more about this modern orthodontic treatment, or to schedule a visit with Dr. Browne, contact our office today at (913) 901-8585.