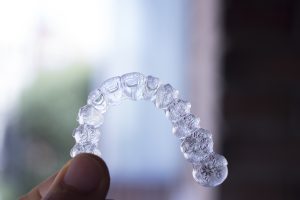 If you pursue orthodontic treatment, you can be excited by the thought of showing off a straightened smile. Even so, you may have some concerns about your time during your period of adjustment. How intrusive will your orthodontic appliance be? Will people dwell on the presence of an appliance? If you have concerns about your daily life during your adjustment, talk to your Prairie Village, KS dentist about MTM aligners. With these modern appliances, you can have work completed in less time. During your adjustment period, you can feel better about your appearance, as MTM aligners are made from clear plastic.
Why Should You Use MTM Aligners For Your Orthodontic Treatment Needs?
Using MTM aligners to correct poorly aligned teeth can lead to a better treatment experience. It can also be a shorter experience – because these appliances are focused on correcting front teeth, your results can be ready in as little as three to six months. During the time you spend wearing MTM aligners, you can feel more comfortable with the way you look, as they can have limited effect on your appearance.
It can be exciting to think about how your aligners can change your smile, but you should know that the sooner you make changes, the sooner you start to enjoy important oral health advantages. People with straight teeth can have an easier time preventing gum disease and cavities. They can also be less likely to develop TMJ troubles.
Your Daily Experiences While Using MTM Aligners
Because they are so difficult to see, you should feel at ease wearing MTM aligners in social settings, and in professional contexts. When it comes to eating, and cleaning your teeth, you can easily remove your aligner. This can make your daily life during orthodontic work more comfortable, and more pleasant. Of course, you should be mindful of how your treatment can be slowed if you spend too much time with your aligners not in place.
Are You Ready To Straighten Your Smile? Make An Appointment To Learn More About MTM Aligners
For people looking to correct alignment flaws, MTM aligners can offer remarkable benefits. You can feel better about your treatment time, while also making it shorter! During a consultation, your dentist can give you more information about what you can expect from treatment. They can also closely examine your smile, to make certain you qualify for aligners.
Make An Appointment To Discuss MTM Aligners With Dr. Browne!
Are you ready to enjoy the functional and cosmetic benefits of straightened teeth? If you are, you should reach out to Dr. Browne and discuss the value of MTM aligners! You can enjoy a discreet teeth straightening experience, and see results in as little as three to six months. To learn more or to schedule your visit with Dr. Browne, contact our office today at (913) 901-8585.