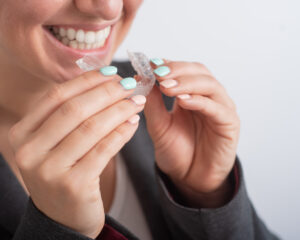 Does orthodontic treatment have to create problems for your daily life? It may feel as though you do if you think your only treatment option is one that depends on fixed metal braces to see results. What you should know is that you have other options. Your Prairie Village, KS dentist's office can provide an alternative with Orthodontic Clear Aligners. The benefits to this approach can be appealing to many individuals who want to fix spacing flaws. For those who worry about the impact that treatment will have on their work life, it can be a relief to know that a set of aligners that are hard to see and easy to remove are available for beneficial corrective treatment.
Are You Worried That Orthodontic Work Will Interfere With Your Professional Life?
There are different reasons people hesitate before looking into corrective work to fix poor spacing between their teeth. The idea of treatment can seem difficult to fit into your daily life if you work in a professional environment, as the appearance of your braces can make you self-conscious. The additional hurdle of having an appliance that is set in place can feel uncomfortable as well. The good news is that this is not the only treatment solution that you have. With clear aligners, you can have less difficulty committing to treatment because your aligners are difficult to see, and because you can remove them without trouble.
Choosing Orthodontic Clear Aligners For Your Corrective Work
Orthodontic Clear Aligners are capable of gradually straightening teeth so that they no longer look awkward and asymmetrical. Throughout the process, you will rely on a series of appliances that are clear and easy to remove. The appliances are designed for your personal use; with the right preparatory reviews, we can capture the information needed to provide you with a custom set of aligners. Wearing them throughout each day will help you stay on track for your expected treatment completion.
Corrective Work Can Offer More Than Just Cosmetic Changes
The choice to take on embarrassing smile gaps and overlaps can certainly have cosmetic benefits for you, but you should know that this work is also capable of fixing problems with poor bite alignment, and it can even help improve your oral hygiene effectiveness! This may be a recommended treatment if you have issues with TMJ disorder, as your teeth spacing troubles may make it difficult for you to maintain a natural bite.
Talk To Your Prairie Village, KS Dentist About Orthodontic Treatment With Clear Aligners!
By taking on poor smile alignment with Orthodontic Clear Aligners, you can correct issues with your appearance discreetly. These appliances will help you fix gaps and overlaps without interfering with your professional life, and they can help you improve your oral health! If you would like to find out more, please reach out to our Prairie Village, KS dentist's office at 913-901-8585.